News
Paramount+ Releases First Look of Upcoming Rom-Com 'At Midnight' Starring Diego Boneta & Monico Barbaro
Paramount+ Releases First Look of Upcoming Rom-Com 'At Midnight' Starring Diego Boneta & Monico Barbaro
Spanish-speaking actor Diego Boneta is soaring his acting career to greater heights with the rom-com film At Midnight, starring alongside Top Gun: Maverick's Monico Barbaro, set to debut very soon on Paramount+.
The streamer released the film's first look a day ago, briefing viewers on the premise and the cast to expect. Take a look.
'At Midnight' Plot
From the looks of the sneak peek, At Midnight seems awfully similar to 2005's Forgetting Sarah Marshall, except that the protagonist is female in Paramount Plus's installment. 
The rom-com focuses on Sophie (Barbaro), an actress working on her upcoming project, the superhero film Super Society 3, in hopes of getting her spin-off. Sadly, she catches her co-star and boyfriend of five years, Adam (Anders Holm), having a romp in the sack in his dressing room trailer. 
Since the shooting takes place in beautiful Mexico, Sophie tries to take her mind off the ugly cheating incident with beautiful sceneries and the encouragement of her amusing friend, a character brought to life by Whitney Cummings.
Fate also links Sophie with Alejandro (Boneta), the ambitious manager of the hotel where she and her crew stay for the filming. Sparks immediately fly, and you can predict the rest.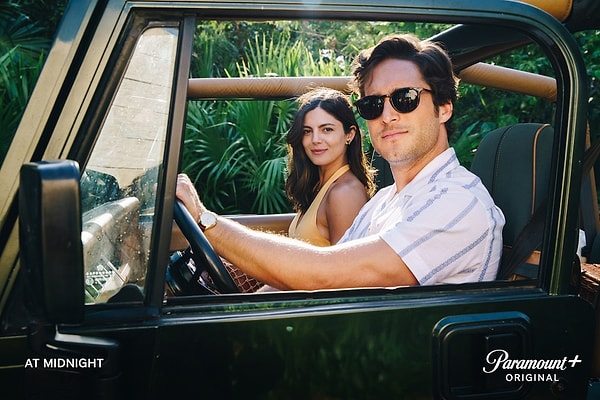 Who Stars in 'At Midnight'?
Besides those mentioned, At Midnight stars Catherine Cohen (Dating and New York), Sara Sampaio (The Clapper), Fernando Carsa (Acapulco), Casey Thomas Brown (I'll Show You Mine), Maya Zapata (Selena's Secret) and Dazelle Yvette (Girls Like Us! Part 1).
When Does 'At Midnight' Premiere?
At Midnight premieres on Friday, February 10, 2023. 
The Luis Miguel: La Series actor shared his sentiments about the film at its TCA presentation on Monday, January 9. 'You won't hear me sing, but you'll see me dance with my co-star Monico Barbaro. We wanted to do something different. Luis Miguel was a big part of my life these past five years, and it was an amazing experience,' he said. 
"At Midnight is its own thing. It's a love letter to Mexico as well. There aren't enough rom-coms shot there in the same vein as Vicky Cristina Barcelona and Midnight in Paris. Mexico is a character in this film, and you'll see it through the eyes of our director Jonah Feingold,' he added.
Scroll Down for Comments and Reactions