News
Notable Differences Between 'Killing Eve' the TV Series and the Books
Notable Differences Between 'Killing Eve' the TV Series and the Books
Killing Eve, the TV series, is a 2018 adaptation of Luke Jennings's series of e-books, although with some transformations along the way. The TV series presents Jennings's initial efforts differently, making it even more enjoyable. 
The book series comprises three novels; the first one, Codenane Villanelle, was published in 2017, No Tomorrow, the second one was published in 2018, and the last one, Die For Me, was published in 2020. 
Killing Eve, the TV series, has four installments, each with a different showrunner like Laura Neal, Suzanne Heathcote, Emerald Fennell, and Phoebe W-Bridge.
While both the books and the series concentrate on the deep connection between Villanelle, a mysterious female assassin, and Eve Polastri, the intelligent agent entrusted with capturing Villanelle, there are several changes that the series applied to make it more updated and catchy.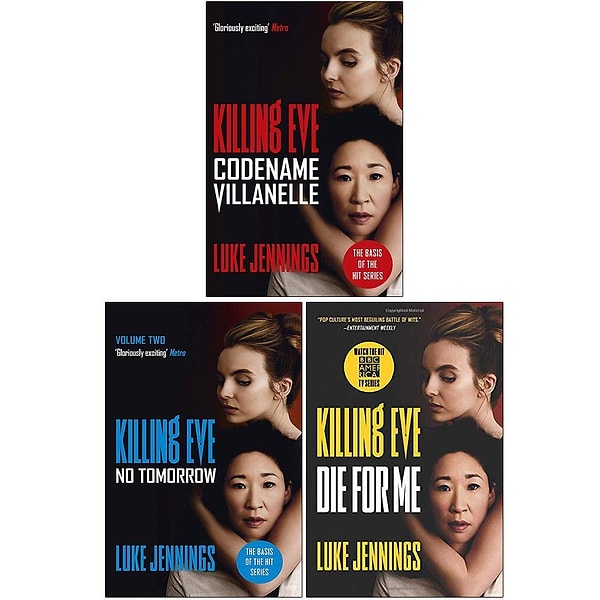 Killing Eve, the e-book novellas take a more peaceful path with Eve and Villanelle facing no betrayal and faking their demises to flee from The Twelve. The duo wins the happy ending they've always wished for, staying together in love and undertaking their academic degrees. 
On the contrary, Killing Eve, the TV series features the couple as it gets betrayed by Carolyn, who later orders their execution just after Villanelle murders The Twelve. Eve wails out loud as her lover floats, dead in the water. A sad ending indeed.
2. Villanelle Murders Konstantin
From the TV series, we witness how Konstantin severally escapes death and assassination threats until he finally gets killed through assassination. In the final season, his throat is cut with a pizza cutter. The novellas, however, display a different story about Konstantin's death. Villanelle kills him as she proclaims his wise words, 'Trust no one.'
The series also represents an intense connection between Konstantin and Villanelle as the former presents himself as a father figure and role model. In the novel, we see a series of betrayals from Carolyn, among others.
3. Transgender Representation
In the book, we see Jaine, a transfer sex worker seducing Simon, robbing him of his phone, and later sending him to his death- a knife in Villanelle's hands. The demise, however, slightly appears similar to that in the TV series as Simon is stabbed to death.
The showrunners, however, didn't adapt any transgender characters in the TV series, choosing to concentrate on Eve and Villanelle's queer relationship.
4. Changes to the List of Characters
Besides Carolyn, several other guest characters did not exist in the books. Some of these stars include Eve's assistant, Elena played by Kirby H-Baptiste, Pam portrayed by Anjana Vasan, season four's aspiring assassin, and Carolyn's son Kenny represented by Sean Delaney. 
Killing Eve, the TV series, also has added Frank impersonated by Darren Boyd as Eve's M15 boss. Several new characters were incorporated to help Villanelle on her missions.
5. Eve is British in the Novellas
Although she is portrayed by an outstanding Korean-American character, Sandra Oh, in the TV series Killing Eve, the novellas have Eve as a British M15 intelligence agent. 
Additionally, Eve remains Niko's wife in the adaptation, although the connection is more profound in the books than in the series, where Eve faces many obstacles. 
Even after several breakups, the pair reconnects and even works together to hunt for Villanelle in the novellas, contrary to the sorrowful ending in the adaptation.
6. Villanelle's Origin is Disclosed Quite Early
The TV series showcases Villanelle as an assassin with outstanding killer instincts and style but without clearly mentioning her genesis. 
On the other hand, Luke Jennings presented her Villanelle from the beginning, originating from a wealthy war veteran transformed criminal father. 
After her mom dies from cancer caused by the Chernobyl tragedy, Villanelle's dad caters to her linguistics study at a great Russian University, only to be killed by an opponent shortly after.
7. Anna as Villanelle's Partner
Anna from the books is portrayed as Villanelle's ex-linguistic tutor. At the same time, in the series, she has an intimate connection with the great assassin, Villanelle, who later killed the Russian tutor's manipulative husband. 
The books showcase this relationship as non-romantic, with Anna rejecting Villanelle's advances. Villanelle also doesn't murder the teacher's manipulative husband; instead, she sterilizes and kills a man that sexually abused Anna. 
These few transformations display a different picture of Anna and Villanelle's union that at least doesn't end in a sorrowful abrupt suicide, unlike the others in the TV series.
8. Carolyn has a Male Sidekick
The adaptation displays Eve's M16 contact and boss as a suspicious lady named Carolyn portrayed by Fiona Shaw. Carolyn tries to take her path secretly, sometimes siding with The Twelve and other times against them. 
Her life involves a sequence of secrets dealing with several devious and powerful men like Konstantin acted by Kim Bodna. Killing Eve's season four ending has Carolyn in a mess- sorrowful indeed!
The books on the side do not feature Carolyn as Richard Edwards takes up the role. Neither does Edwards conduct any fishy business like Carolyn, nor is he any close to Konstantin.
Scroll Down for Comments and Reactions