New Album Review - The Inspired Chemistry of Black Country, New Road's 'Ants From Up There'
News
>
New Album Review - The Inspired Chemistry of Black Country, New Road's 'Ants From Up There'
The 2021 debut of the British septet Black Country, New Road declared its existence with innovative confidence, circulating music forums and ranking as one of the best-reviewed rock albums of the year. With instrumental prowess and ranting, oblique lyrics, For the First Time won over audiences after brewing for a few years with the release of 2019 singles "Athens, France" and "Sunglasses." In 2022, the follow-up record Ants From Up There releases one day short of one year after their debut, with even better reviews from listeners and critics than their first. With this album, the band improves on their debut by highlighting their potency in the group effort, finding more concise and more substantial ways to develop an already original approach as the new leaders of art-rock.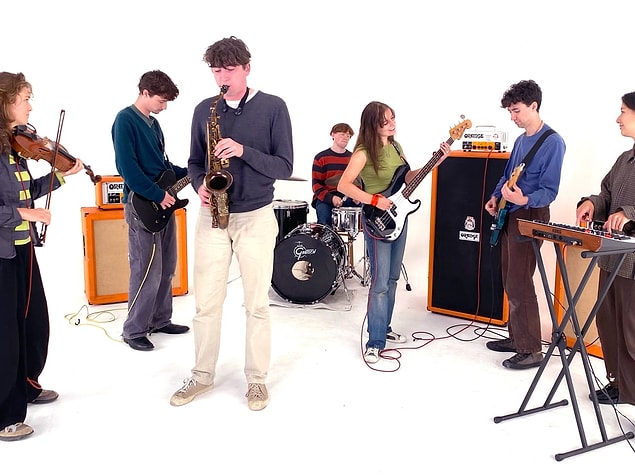 Like in the first album, Black Country, New Road stretch out their ideas for extended periods, drawing from a repetitious post-rock approach with more sharply disparate sounds included. On Ants From Up There, the songwriters now give themselves more time and tracks to explore, with each expanding only one guiding concept rather than throwing genres together. Listen to the way "Concorde" builds on its initial melody over six subdued but purposeful minutes, or how "The Place Where He Inserted the Blade" uses its frequently delicate instrumentation to slowly build with Isaac Wood's voice a sense of alternating jaunty bounce and understated malice. In the thematic amplification of their original approach, BNCR refine their songs by spotlighting their immediacy. The result is the preferred option compared to a lifetime's masterpiece, poured over for years while trying to synthesize one's musical knowledge instead of finding genuine musical novelty.
The Verdict on 'Ants from Up There'
Black Country, New Road demonstrate with this new record that their strength lies with their ability to connect, leaning into the other members and developing their exploratory impulses with effectiveness in the sprawl. The more they trust one another's songwriting impulses with a dash of fine-tuning and intricate collaboration thrown in, the fresher the results. BNCR already has announced work on a new album, at this point assuredly instilled with the confidence to continue down this pathway of urgent brilliance rather than drag themselves down by holding back.
Rating: 9/10
★★★★★★★★★☆
Black Country, New Road - 'Concorde' (Official Video)
Tracklist
1. Intro

2. Chaos Space Marine

3. Concorde

4. Bread Song

5. Good Will Hunting

6. Haldern

7. Mark's Theme

8. The Place Where He Inserted the Blade

9. Snow Globes

10. Basketball Shoes