News
Netflix Releases the Trailer for 'Hustle' (2022) Starring Adam Sandler Revealing the Premiere Date
Netflix Releases the Trailer for 'Hustle' (2022) Starring Adam Sandler Revealing the Premiere Date
Adam Sandler, the comedy icon, is slowly sinking into more intense roles, and I have to admit that serious kinda looks good on him. 
Netflix recently unveiled the official trailer of Sandler's latest project Hustle (2022), launching various basketball stars, including Boban Marjanovíc, and Aaron Gordon among others.
Twitter Announcement
Sandler excitedly tweeted the film's poster along with its trailer, tagged with the caption, 'Love you all.'
The streaming platform also posted Hustle's trailer on Twitter with the logline, 'Do you love this game? Produced by @AdamSandler and @KingJames, Hustle-starring Sandler, @juanchiviris41, @IAMQUEENLATIFAH, @theantedwards and @TheJetOnTNT- premieres June 8." 
What's the Storyline?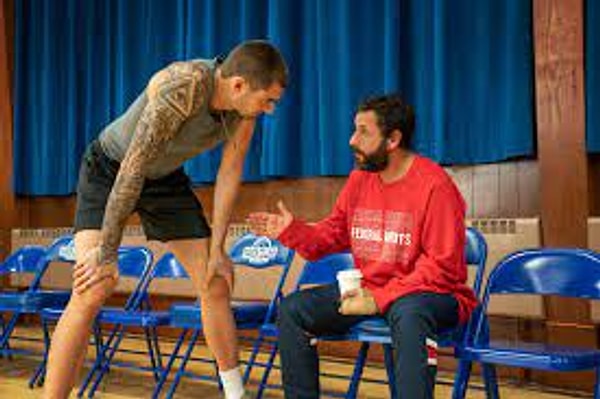 Who Casts 'Hustle'?
Queen Latifah plays Stanley's wife, Teresa Sugerman, while Jordan Hull plays Stanley and Teresa's daughter. 
More stars featured include Ben Foster as Stanley's boss, Maria Botto as Paola Cruz, Robert Duvall, Ainhoa Pillet, Kenny Smith, Silas Graham, Lenjo Kilo, Marcus Delpeche, Malcolm Delpeche and Raúl Castillo as Oscar.
Some NBA stars seen in the trailer are Trae Young, Boban Marjanoviíc, Aaron Gordon, Anthony Edwards, Khris Middleton, Seth Curry, Jordan Clarkson, Kyle Lowry, and Matisse Thybulle and Tobias Harris.
What's the Production Status?
Sandler produced the film with basketball legend LeBron James joined by Maverick Carter, Allen Covert, Jeffrey Kirschenbaum, Joe Roth and Zack Roth. 
Premiering on June 8, Hustle promises a feel-good fuse of He Got Game, Jerry Maguire and the underrated The Air Up There starring Kevin Bacon.
Scroll Down for Comments and Reactions