News
Netflix Axes Animated Series 'Dead End: Paranormal Park' After Two Seasons
Netflix Axes Animated Series 'Dead End: Paranormal Park' After Two Seasons
Hamish Steele's Dead End: Paranormal Park has met its sudden end at Netflix after airing two seasons on the streaming platform. Steele revealed that the series had been canceled and will not be getting a season three on Netflix. 
Dead End: Paranormal Park landed on Netflix in June 2022 as an adaptation of Hamish Steele's graphic novel series, DeadEndia, and Cartoon Hangover's Too Cool! Cartoons, a web short by the name Dead End. The series was renewed for a season two months later, landing in October 2022 with ten episodes.
'Dead End: Paranormal Park' Ratings
On January 13th, the show was announced to have been canceled by Netflix. Dead End: Paranormal Park managed 6.9/10 stars on IMDb, a 100% average Tomatometer (supported by an 85% average audience score) on Rotten Tomatoes, and 5/5 stars on Common Sense Media for its past two seasons. 
On the brighter side, Dead End: Paranormal Park has been nominated for the 34th Annual Gay &Lesbian Alliance Against Defamation (GLAAD) Media Awards.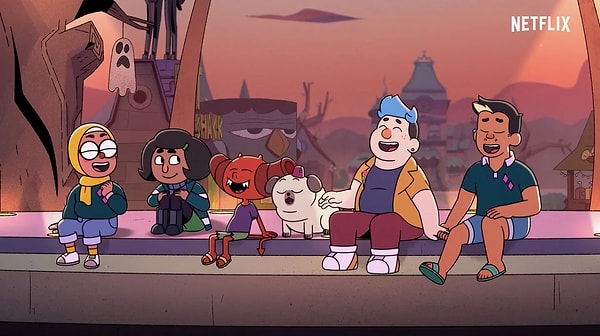 What Does 'Dead End: Paranormal Park' Producers Say About the Cancellation News?
On January 14th, Hamish Steele wrote on his main Twitter account, "I'm sharing articles about the cancellation news not because I wanna pour fuel on any fire but because it just shows the impact Dead End had. This article (an article by Gay Times, an LGBTQ+ news outlet) collects many tweets, some angry, but some showing how much we meant to people."
A week later, Steele shared that he had received direct emails, some in a threatening tone, demanding he changes the decision about bringing Dead End: Paranormal Park season three. 
Fans reacted to the cancellation news through tweets, heartbroken emojis, and memes. Clearly, Dead End: Paranormal Park has won many hearts worldwide, and it's worth sobbing for.
What's 'Dead End: Paranormal Park' About?
Dead End: Paranormal Park is an animated adult comedy and fantasy revolving around Norma and Barney, employees at Phoenix Parks. The pair discover a lot about themselves at the park while creating new relationships. 
The show presented the talented voices of Zach Barack (Barney), Kody Kavitha (Norma), Alex Brightman (Pugsley), Emily Osment (Courtney), Clinton Leupp (Pauline), Kathreen Khavari (Badyah), and Karen Maruyama (Barbora). 
Steele worked alongside Tom Stuart, James S. Bretton, and Jen Coatsworth to produce the show, with the contribution of Netflix Animation and Blink Industries.
Hopefully, Dead End: Paranormal Park will get a new home, as there are still a lot of unfinished businesses in the series.
Scroll Down for Comments and Reactions