News
Metro Boomin Delays Album Citing Sample Clearance Issues
Metro Boomin Delays Album Citing Sample Clearance Issues
Metro Boomin has announced that his upcoming ablum, 'Heroes & Villains,' will not drop on its originally planned release date of November the fourth.
The artist has claimed that there have been some clearance issues with some of the samples used in tracks on the album and has pushed its release date back to 2nd December.
Its original release date in early November coincides with the releases of several other albums by big artists but Metro Boomin denies that this is the reason for changing the date.
"I couldn't get all the samples on my album cleared in time for next week so I'm dropping on Dec 2nd now so I have enough time to make sure you all get this masterpiece as intended," the musician tweeted on Wednesday.
"I promise it's worth the wait!! P.S. I would NEVER move my album date because of anyone else," he added just to be sure.
The album follows Metro Boomin's 2018 project, titled 'Not All Heroes Wear Capes.'
Though the artist announced the release of the album some time ago, no singles have been released as of yet, leaving an air of mystery around the new project.
The announcement comes after drake announced on Wednesday that the collaborative project between he and 21 Savage, titled 'Her Loss,' would be delayed until November 4th.
The reason given by Drizzy was that his producer Noah '40' Shebib had contracted coronavirus as he was working on the final mix and master of the new project.
Initially the album had been intended to drop this Friday (28th October) but 40's illness has delayed matters.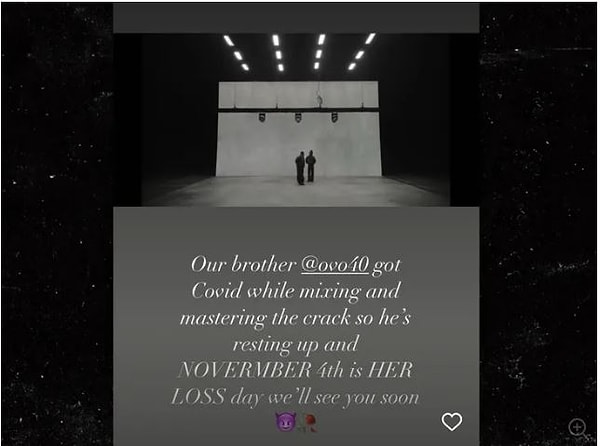 On social media, hip hop fans have posted theories as to why the albums have been delayed, contrary to the reasons given by the artists.
Podcaster DJ Akademiks has tweeted that the reason that artists are moving back their releases is so that they do not have to compete with Taylor Swift's new hit album 'Midnights.'
"Its Taylor Swift that got everybody pushing their albums back.. She finna be easily #1 next week… and maybe even the week after. NO rapper.. No artist. want smoke. Everybody want a #1 album. They all tryna drop as far as out after Taylor Swift. Shordy really sell 1.5 mil," Akademiks said on the social media platform.
"Labels start hitting up these lil rap artists like.. hold up.. taylor swift selling 1.5 mil this week.. she finna sell at least 500K next week,' he then Tweeted, 'How bout yall all make an excuse and drop like a Month out from now to avoid big bad Taylor. They wont tell u.. but i will."
Scroll Down for Comments and Reactions