News
'Mayans MC' Season 4 Premieres on Hulu
'Mayans MC' Season 4 Premieres on Hulu
After the suspenseful cliffhanger of Mayans MC season 3, fans have been eagerly waiting to see how things pan out for the Mayans Motorcycle Club. While the first two episodes of the show's fourth season hit the screens on Tuesday, April 19 on FX, you can now catch it on Hulu.
Trailer
FX Networks dropped a trailer video of the series' season 4 on April 4, giving a peek into the immediate aftermath of the previous season's finale. 
The trailer hints at the Mayans conflict and the implications of striving to work under one leadership. Co-creator Elgin James mentions that the strife between the Mayans and SAM CRO M.C.s will stretch out throughout the season.
How to Watch 'Mayans MC' Season 4
Episodes 1 and 2 are available for streaming on Hulu. Audiences in Europe and the UK can get the action on Disney+. Season 4 contains ten episodes. So far, episode 1: 'Cleansing of the Temple', and episode 2: 'Hymn Among Ruins', are out.
Episode 3: 'Self Portrait in a Blue Bathroom' is expected to air next Tuesday, April 26. Episode 4: 'A Crow Flew By' on May 3, episode 5: 'Death of the Virgin' on May 10 and episode 6: 'When I Die, I Want Your Hands on My Eyes' on May 17.
We'll keep you in the loop when we get further details about the last four episodes.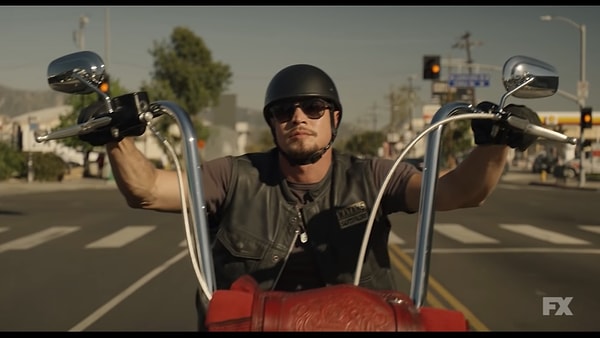 Who's in 'Mayans MC' Season 4
All the show's regulars reprise their roles for season four as well as some supporting casts who've been upped to series regulars this round. They include Vincent Vargas (Gilly Lopez), Joseph Lucero (Neron "Creeper" Vargas) and Frankie Loyal (Hank Loza). 
The primary movers and shakers include JD Pardo (Ez), Clayton Cardenas (Angel), Raoul Trujillo (Taza), Carla Baratta (Adelita), Michael Irby (Bishop), Sarah Bolger (Emily), Sulem Calderon (Gaby), Edward James Olmos (Felipe), Richard Cabral (El Coco), Danny Pino (Miguel), Emilio Rivera (Álvarez) and Ray McKinnon as Linc.
Scroll Down for Comments and Reactions