Lil Wayne Announces Lineup for Lil'Weezyana Fest
News
>
Lil Wayne Announces Lineup for Lil'Weezyana Fest
New Orleans legend Lil Wayne has revealed the lienup of musical acts for his Lil Weezyana Fest.
The yearly show was originally to take place in August but it was delayed due to what wayne and his people called 'unforeseen circumstances.'
A new date of 29th October was instead put in place for the event.
Lil Wayne took to social media with that announcement.
'"To my fans, you know I always want to deliver the best show possible and we hope this has not inconvenienced you in anyway,' he stated.
The festival was sold out thanks to you. Please hold on to your tickets and I will see you in October. I promise to make it up to you and to my city. Love," Wayne added.
As the new date of the festival approaches, Weezy has revealed the new lineup for the Louisiana based event.
According to the lineup poster image released by Lil Wayne, the festival will feature a star studded lineup,featuring some of rap's biggest names.
Lil Wayne of course, headlines the festival, but there are so many other big names for fans to be excited about.
In August, Coi Leray and Moneybagg Yo were speculated to be the headline acts but since then, even bigger names have been added to the billing.
Quavo & Takeoff, Cam'ron, Rick Ross and Rob 49 will all play shows at the festival in the south of the USA.
So too will young money, Neno Calvin, Babyface Ray and Mellow Rackz.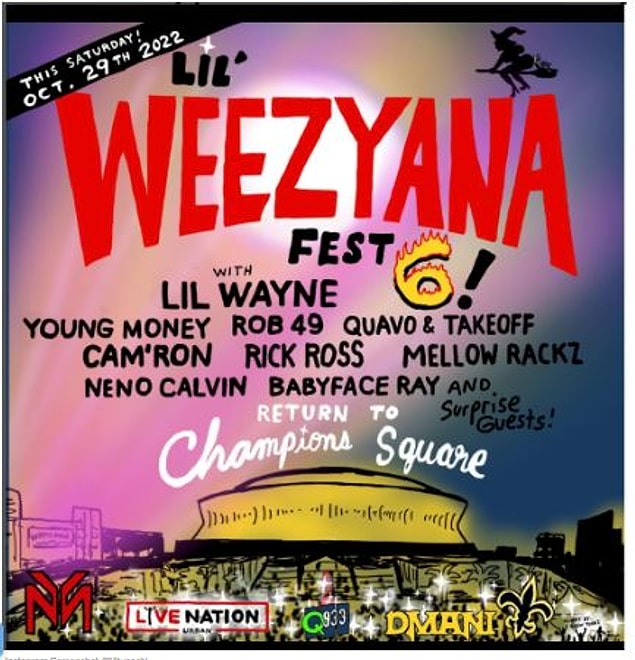 The festival poster, which advertises the venue of the festival, Champion Square, also says that 'Surprise Guests,' will appear at the event.
The last edition of the festival took place in 2019, where a number of stars performed.
The line up then included Megan Thee Stallion, Travis $cott, Meek Mill, trey Songs and Saweetie.
The event has been on the run since 2015, and since then Lil Wayne has brought some of the biggest names in hip hop to his home city.
Throughout the years Gucci Mane, NBA Youngboy, Master P, Migos, 2 chainz and Drake were among the acts to have performed in Louisiana.
Weezy's Instagram post detailing the updated lineup hints at the festival being close to sold-out.
"There's a few tickets left so get yours now while you still can!!!.' he posted.
Lil Wayne has recently turned 40 years old and celebrated in style with a host of celebrities' from the hip hop world and beyond.