Liam Neeson Stars On A 2014 Action Thriller 'A Walk Among the Tombstones'- Here's What We Know So Far
News
>
Liam Neeson Stars On A 2014 Action Thriller 'A Walk Among the Tombstones'- Here's What We Know So Far
'A Walk Among the Tombstones' is a 2014 American neo-noir action thriller film directed and written by Scott Frank, and based on the 1992 novel of the same title by Lawrence Block. The movie follows private investigator Matthew Scudder hired by a drug kingpin to find out who kidnapped and murdered his wife. Liam Neeson stars in this action crime drama.
When And Where Will 'A Walk Among the Tombstones' Be Streamed?
'A Walk Among the Tombstones' will be available for streaming on Netflix on March 16th.
'A Walk Among the Tombstones' Trailer: Is It Available?
Yes. Netflix has dropped the trailer of this Liam Neeson lead-role movie 'A Walk Among the Tombstones' and you can catch it right here.
A Walk Among the Tombstones Official Trailer
Get To Know More About The 'A Walk Among the Tombstones' Star Liam Neeson
After a major film debut with 1981's Excalibur, Liam Neeson has done a number of popular movies. Some of which were Krull, The Mission, The Dead Pool, Next of Kin, and Darkman. In 1994, Neeson nailed his only Oscar acting nomination with the stupendous Schindler's List, which would go on to win Best Picture for producer Steven Spielberg, who got the Best Director award as well. 
Neeson took on another significant title a few years later as Qui-Gon Jinn in Star Wars: Episode 1 – The Phantom Menace. And after that, Neeson appeared in Gangs of New York, Kingdom of Heaven, and Batman Begins. Neeson was also in the lead role for the Taken movie series.
What Is The Story Behind 'A Walk Among the Tombstones'?
Former cop Matt Scudder is now a private eye. He is asked by a drug dealer to find the men who kidnapped his wife. It seems like they killed her even after he paid them. Scudder refuses. But the man later goes to see him and tells him how his wife was killed.
Scudder takes the job. He does some research and thinks the men he is looking for have done this more than once and that everyone they grabbed is connected to a drug dealer. He is about to give up when they grab another girl and Scudder tries to make sure she's returned alive.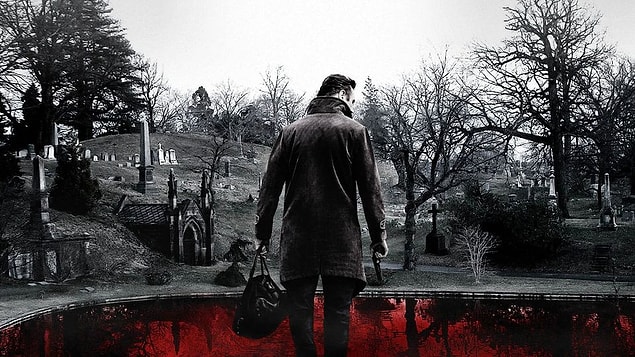 Who's In The Cast Of 'A Walk Among the Tombstones'?
'A Walk Among The Tombstones' stars Liam Neeson as Matthew Scudder, Dan Stevens as Kenny Kristo, Boyd Holbrook as Peter Kristo, Ólafur Darri Ólafsson as Jonas Loogan, Brian 'Astro' Bradley as TJ, Mark Consuelos as Reuben Quintana, David Harbour as Ray, Adam David Thompson as Albert, Sebastian Roché as Yuri Landau, Laura Birn as Leila Andresen
Razane Jammal as Carrie Anne / Carrie Kristo, Danielle Rose Russell as Lucia (Ludmilla) Landau, Marielle Heller as Marie Gotteskind.
'A Walk Among The Tombstones' was helmed by Scott Frank who also wrote the story for screen. 
Are you looking forward to watching this 2014 action-packed movie of Liam Neeson in 'A Walk Among the Tombstones' set to release on Netflix on March 16th? Let us know in the comments below.