News
Kanye West makes Controversial Drake Comments in Latest Interview
Kanye West makes Controversial Drake Comments in Latest Interview
Kanye West has made more controversial comments, this time focusing on Drake, in his latest interview with 'Drink Champs.'
The popular podcast has seen West appear on the show a number of times, with his latest interview aired on Saturday.
The rapper and producer, now known as 'Ye,' first said that Drake was the "greatest rapper of all time."
He was then asked by one of the co-hosts, N.O.R.E, about a recent post West had posted on Instagram, which stated that Drake would "f* ya baby mama's mama."
In the interview, Ye made reference to an apparent hook up between Drake and his wife's mother, Kris Jenner.
Kanye says "Drake is the greatest rapper ever." | DRINK CHAMPS
Jenner, who is 31 years older than Drizzy, is the mother of TV influencer and model, Kim Kardashian, who West is now embroiled in a divorce case with.
Kardashian is also the mother of his four children.
The Instagram post that sparked this controversy was one of a number of posts made to social media in the aftermath of Kanye West modelling a 'White Lives Matter,' shirt, which brought him much criticism.
In that time, West thanked Drake for liking one of his posts.
"EVERYONE KNOWS ME AND DRAKE HAVE HAD A RIVALRY IN THE PAST IT REALLY WARMED MY HEART TO SEE DRAKE LIKE ONE OF MY POST," Ye wrote. "WE STILL NEED THE DONDA TEAM TO PLAY NOCTA ALL DRAKE MUSIC WILL BE PLAYED AT DONDA GAMES MOVING FORWARD," West posted to Instagram.
That post referenced the previous feud that fired between West and Drizzy, though they have since made up last December.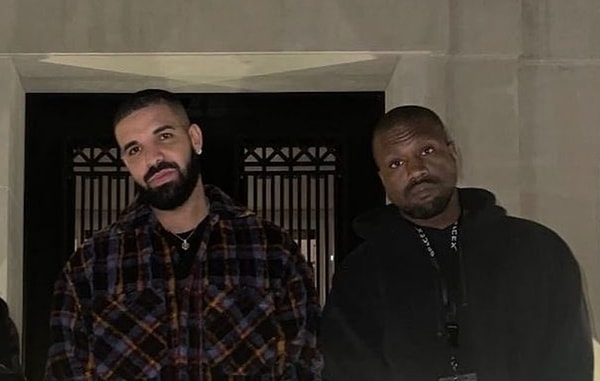 One of the sticking points with that feud were the rumours that Drake had slept with Kanye's wife, Kardashian.
West also claimed that Drake made references to his wife in his songs and dissed him on a number of tracks.
Drake also leaked music that Ye had done with Andre 3000, of OutKast fame.
The duo had collaborated on a music project in 2017 but their relationship was damaged by the rap feud between Drake and Pusha-T, who exposed Drake's son Adonis.
After making-up, West and Drake did a show together for charity, known as the Free Larry hoover Benefit Concert.
The concert was played to a sold-out Los Angeles Coliseum last December.
Amongst other comments that West made on the podcast, were those that related to the deaths of a number of well-known people, including that of George Floyd's in 2020, which sparked the popularity of the Black Lives Matter movement.
Scroll Down for Comments and Reactions