News
K-Drama Series 'Black Dog: Being A Teacher' Premieres Netflix: Here's What To Know About
K-Drama Series 'Black Dog: Being A Teacher' Premieres Netflix: Here's What To Know About
tvN's acclaimed drama series 'Black Dog: Being a Teacher' is set in South Korea. It's a well-made drama in which viewers empathize with the genuine environment, problems, and villains faced by the program's fixed-term teachers.
From December 16, 2019 until February 4, 2020, it aired on tvN on Mondays and Tuesdays. The arrangement between Netflix and CJ ENM, the parent company of tvN, didn't go into force until 2020, which is one of the reasons why the series didn't premiere on Netflix.
'Black Dog: Being a Teacher' Release Date
It has been confirmed that on Tuesday, April 5th, 2022, all 16 episodes of Black Dog: Being a Teacher will be available to stream on Netflix. Each episode has an estimated run time of 75 minutes.
'Black Dog: Being a Teacher' Trailer
While dealing with her newfound occupations and the problems and issues that come with it, the trailer gives us a glimpse into KoHa-life neul's and her dreams, aspirations, struggles, happiness, meltdowns, conflicts, and more. The background music adds to the intrigue and allows the viewer to feel the emotions.
'Black Dog: Being a Teacher' Storyline
The plot follows Ko Ha-neul, who desires to be a teacher because one of her own instructors saved her life when she was in elementary school. She has wanted to teach since she was in high school, to assist the younger generation in figuring things out for themselves. She enrolls at Daechi High School, which is a competitive environment with its own set of problems.
Workplace politics, disagreements among coworkers, immense pressure on students, the exaggerated importance of getting into prominent universities, and problems in the educational system are all addressed in this drama.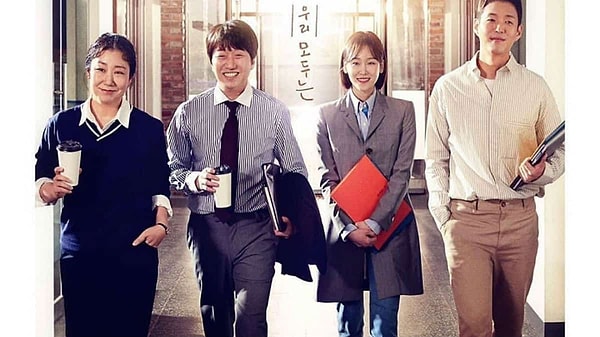 'Black Dog: Being a Teacher' Cast Members
Main Characters:
Seo Hyun-jin as Ko Ha-neul: Ha-neul decided to become a teacher after a teacher protected her when she was a student. Years later, she begins working as a substitute teacher at a private high school, where she improves as a teacher and as a person as a result of her hardships.
Ra Mi-ran as Park Seong-soon: A seasoned educator who serves as Ha-neul's mentor. She is a Korean language teacher and the Director of College Admissions, and she is renowned among the students as a workaholic.
Ha Jun as Do Yeon-woo: A Korean language teacher who is very popular among students.
Supporting Roles:
Lee Chang-hoon [ko] as Bae Myung-soo
Baek Eun-hye as Song Chan-hee
Lee Hang-na as Song Young-sook
Jung Hae-kyun as Moon Soo-ho
Kim Hong-pa as Byeon Seong-joo
Yoo Min-kyu as Ji Hae-won
Park Ji-hwan as Song Yeong-tae
Lee Eun-saem as Lee Seul-ki
Jo Sun-joo as Kim Yi-boon
Lee Yoon-hee as Lee Seung-taek
Heo Tae-hee as Han Soo-hyun
Ye Soo-jung as Yoon Yeo-hwa
Special appearances:
Ryu Ji-eun as young Go Ha-neul
Tae In-ho as Kim Young-ha, Ha Neul's former high school teacher (Ep.1-2)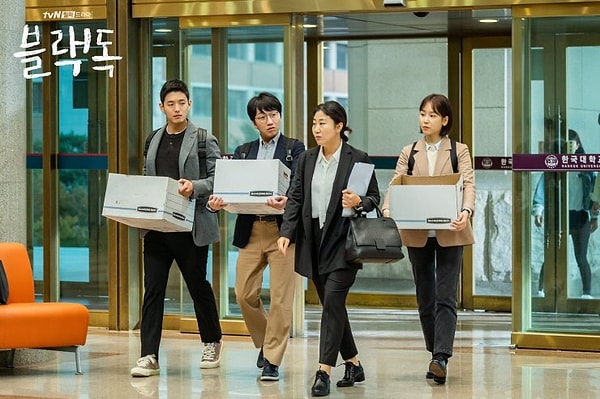 'Black Dog: Being a Teacher' Showrunners
The series was written by Park Joo-Yeon and directed by Hwang Joon-Hyeok.  
Are you looking forward to watching 'Black Dog: Being a Teacher' on Netflix on April 5th? Let us know in the comments below!
Scroll Down for Comments and Reactions