News
Just in Time for Valentine's: Prime Video's 'Somebody I Used To Know'
Just in Time for Valentine's: Prime Video's 'Somebody I Used To Know'
The sweet season of love begins to sprout again! Streaming platforms and production corps are burning the midnight oil to brood fresh rom-com content for eagerly anticipating audiences all over the world.
Just hours ago, Netflix dropped the trailer for its built-up rom-com Your Place or Mine starring Ashton Kutcher and Reese Witherspoon. We even saw the re-launched trailer for the timeless love story Titanic. 
Amazon Prime Video couldn't miss in the mix as it newly released a preview video of its rom-com Somebody I Used To Know, starring Alison Brie alongside Jay Ellis.
Plot
Directed by Brie's hubby, Dave Franco, his second feature film, Somebody I Used To Know features protagonist Ally, a workaholic TV producer who journeys back to her hometown after hitting rock bottom in her career. 
She meets her old flame and first love from 10 years ago, Sean and reminisces about their relationship. However, she's surprised to find out that Sean is engaged to Cassidy, whose creative personality and free spirit remind Ally of her younger days.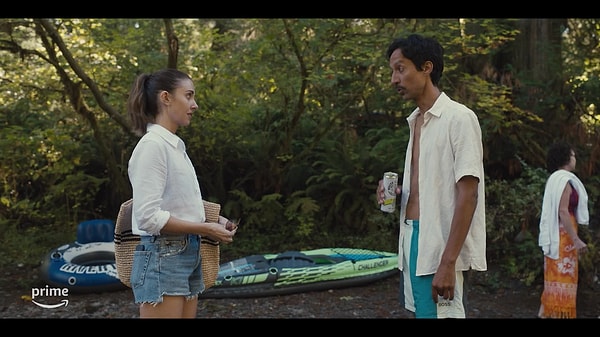 Trailer
The preview shows Ally (Brie) in a diner but tries to hide underneath the table when she sees her ex Sean (Ellis) walk in. Sean walks over to Ally, sparking a conversation and old memories. From the looks of it, Ally regrets leaving Sean all those years ago, and they both wonder if things would have been different.
Ally meets Sean's mother, Jojo (Olga Merediz), who welcomes her to their intimate evening gathering to celebrate Sean's engagement with Cassidy (Kiersey Clemons). 
Surprised and somewhat disappointed Ally decides to extend her hometown staycation to explore things with Sean. To much surprise, Cassidy doesn't feel threatened and in fact, forms an unlikely friendship with Ally, who admits that Cassidy reminds her of who she was when she was younger. The new girl pals do crazy stuff together, including running naked across a gold course. 
The trailer ends with two scenes of Ally and Sean pre or post-kiss and Ally and Cassidy affectionately clasping eyes, presumably implying that Cassidy is attracted to Ally. 
The film could make for a tantalizing watch for sure.
Cast
Joining the above-mentioned stars, Somebody I Used To Know features Julie Beth Hagerty (What About Bob?) as Libby, Haley Joel Osment (The Sixth Sense) as Jeremy, Amy Sedaris (Bewitched) as Deedee, Danny Pudi (Community)as Benny, Zöe Chao (The Afterparty) as Ramona and Evan Jonigkeit (Easy) as Chef Jamie.
Crew
Alison Brie co-wrote the film's script with her husband. She also starred in Franco's feature directorial debut, 2020's horror thriller The Rental. 
The dynamic power couple married their personal and professional lives in 2017, and though not every Hollywood couple can live and work together, these two make it seem like a piece of cake. 
Brie told PEOPLE last year, 'It's so much fun and inspiring to come into our own confidence and work together in different ways, which fuels each other. It's also a way to connect as well.'
Somebody I Used To Know will grace Prime Video on Friday, February 10.
Scroll Down for Comments and Reactions