News
Jim Parsons' Bitter Sweet Christmas Film 'Spoiler Alert' Dubbed with Mixed Reviews
Jim Parsons' Bitter Sweet Christmas Film 'Spoiler Alert' Dubbed with Mixed Reviews
Christmas started early with the holiday-themed film Spoiler Alert starring Jim Parsons in the lead. The LGBTQ+ heartfelt Christmas movie launched on Friday, December 2 2022, in U.S. theaters and has obtained some pretty interesting reviews so far. 
Let's dig into Spoiler Alert's titbits below.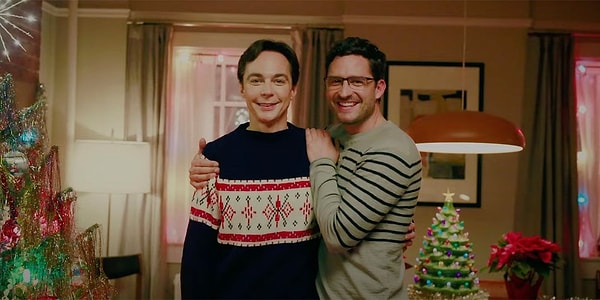 'Spoiler Alert' is a Biographical Film
Spoiler Alert is a romantic drama film derived from the memoir Spoiler Alert: The Hero Dies by Michael Ausiello. 
It follows the bitter-sweet moments of Kit Cowan, a Manhattan photographer with terminal cancer during the last eleven months of his life. The story is narrated from the perspective of Michael Ausiello, starring Jim Parsons, Kit's partner and spouse of fourteen years. 
In his memoir, Ausiello details his relationship with his late husband, Christopher 'Kit' Cowan, who unfortunately succumbed to colorectal cancer in 2015. 
The book also captures the highs and lows of the couple's relationship, including Cowan's cancer diagnosis and treatment process and Ausiello grieving the loss of his partner. The book's plot is vividly displayed in the movie.
The Film Received Mixed Reviews Albeit The Memoir was Well Received
The memoir Spoiler Alert: The Hero Dies: A Memoir of love, Law and Other Four-letter Words (2017) found a great reception, with several publications applauding its well-toned and good blend of comedy, loss and grief. The book received over 5000 five-star ratings on Goodreads. 
The film, on the other hand, has seen mixed feedback since its last week and debut, garnering a rating of 5.8/10 on IMDb, 58% on Metacritic, 68% on Rotten Tomatoes and 74% on Google Reviews. 
Amy Nicholson from New York Times slams the movie's blunt diagnosis, while Benjamin Lee from Guardian thinks Spoiler Alert could have done better. 
However, Emily Zemler (Observer) touted the movie saying, "This is probably best to skip if you have a history of helping a loved one through cancer, but for everyone else, it's a solid weekend watch once it hits streaming.'
Cast
Besides The Big Bang Theory's Parsons, Spoiler Alert boasts the incredible talents of Ben Aldridge as Kit Cowan, Sally Field as Marilyn Cowan, Kit's mother; Bill Irwin as Bob, Antoni Porowski as Sebastian, Nikki M. James as Nina, Jeffrey Self as Nick, Josh Pais as Scott, Sadie Scott as Kabie, Winslow Bright as Kelly Roswell, Alegra Heart as Franny and Tora Summers as Mrs Ausiello.
Scroll Down for Comments and Reactions