News
'It Ends With Us': An Upcoming Live Adaptation Film Starring Justin Baldoni & Blake Lively
'It Ends With Us': An Upcoming Live Adaptation Film Starring Justin Baldoni & Blake Lively
Sony Pictures has a new rom-com cooking, a film adaptation of Colleen Hoover's bestselling romance novel, It Ends With Us, published in 2016. 
Jane the Virgin's Justin Baldoni is attached to star in the film alongside Gossip Girl's Blake Lively. Baldoni will direct and executive produce the rom-com under Wayfarer Studios, a film production company that he co-founded with Steve Sarowitz. 
Lively will also executive produce alongside Hoover, Sarowitz, and Andrew Calof. The producers are Jamey Heath under Wayfarer Studios and Alex Saks of Saks Picture Company. Christy Hall is attached to pen the movie's script aside from producing.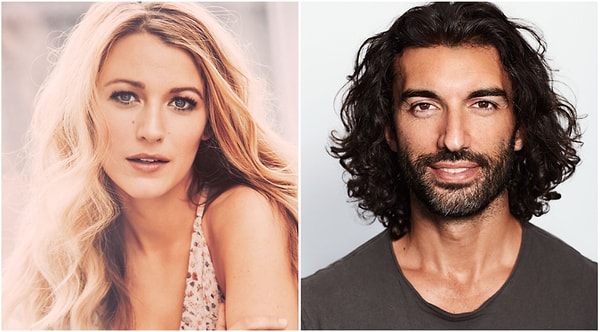 What Does 'It Ends With Us' Involve?
Following the novel premise, It Ends With Us chronicles the heartfelt story of college graduate Lily Bloom, who moves to Boston hoping to open her floral shop. She meets neurosurgeon Ryle Kincaid and is immediately charmed, and they start dating. 
However, Lily starts to notice violent trends in her newfound boyfriend, reminding her of her ugly past when her deceased father used to abuse her mom. Lily coincidentally meets her long-lost lover Atlas Corrigan, who works as a waiter at the restaurant where she went on a date with Ryle. The two reconnect and reminisce over their former love, but this causes Ryle to burn with jealousy as he suspects Lily may be cheating on him. 
Ryle continues to molest Lily even after getting married, making Atlas worried. He later confesses his still-burning desire for Lily after several years apart. Meanwhile, Lily's marriage continues to spiral, prompting the couple's separation when Ryle leaves for a 2-month fellowship. 
She discovers that she has a bun in the oven. But having Ryle's baby doesn't prevent her from leaving an abusive marriage. Unlike her mother, Lily decides to break the cycle by divorcing Ryle, and the two agree on co-parenting.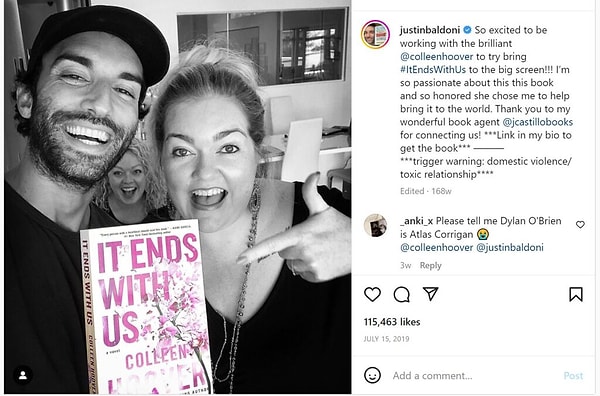 Who Stars in 'It Ends With Us'?
The characters of Lily and Ryle will be brought to life by Lively and Baldoni. Further details on who else stars are oblique as the film is still in its pre-production phase. 
We promise to keep you posted!
'It Ends With Us' is a Best-Selling Novel
Hoover is currently trending as the most successful novelist in the U.S., having sold over 20 million books and helmed five among ten bestselling novels of various genres last year. 
It Ends With Us was the top-selling print book of 2022 and was featured in the New York Times bestseller catalogue for two years. 95% of Google Users attest that they love the novel, which rates 4.3/5 on Goodreads. 
Grab yourself a copy of It Ends With Us before the live adaptation debuts. Containing 386 pages, the novel is available on Kindle for $10.99.
Scroll Down for Comments and Reactions