News
'Interceptor': Release Date, Synopsis, Cast, And More
'Interceptor': Release Date, Synopsis, Cast, And More
'Interceptor' is an upcoming American-Australian action drama film directed by Matthew Reilly from a screenplay that he co-wrote with Stuart Beattie. The film stars Elsa Pataky and Luke Bracey. It's a new Netflix action movie that's about an Army captain trying to save the world.
'Interceptor' Release Date
'Interceptor' will arrive on Netflix Friday, June 3, 2022. Netflix projects drop at 12:00 a.m. PT / 3:00 a.m. ET on the day of release, so west coast fans will get to watch as early as Thursday night, while east coast fans might be better off waiting for Friday evening or the weekend.
'Interceptor' Trailer
Netflix just released the official trailer for the movie on May 4.
'Interceptor' Synopsis
Here is the official movie synopsis, as of Netflix:
"The tough and reality-bruised Captain JJ Collins (Elsa Pataky) finds herself in charge of a lone nuclear missile interceptor base in the middle of the Pacific Ocean after she is wrongfully drummed out of her dream job at the Pentagon. When a simultaneous coordinated attack then threatens the base itself, Collins comes face-to-face with the charismatic yet crooked Alexander Kessel (Luke Bracey), a former US military intelligence officer intent on carrying out an unthinkable plan. With only minutes on the clock, Collins must utilize her years of tactical training and military expertise to determine who she can trust and stop Kessel and his covert mercenaries from completing their twisted and terrible mission."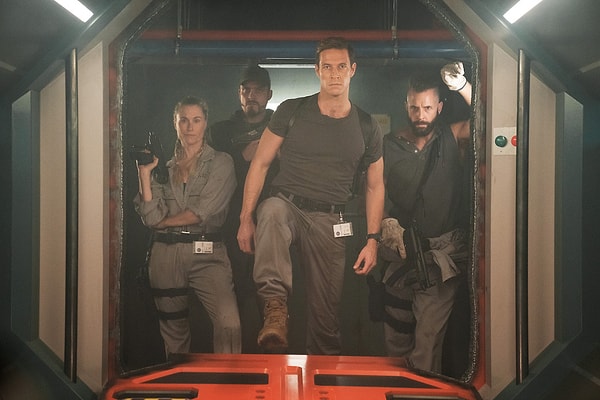 'Interceptor' Cast
The film's cast are as follows: Luke Bracey as Alexander, Aaron Glenane as Beaver, Mayen Mehta as Shah, Rhys Muldoon as Marshall, Belinda Jombwe as Ensign Washington, Marcus Johnson as General Dyson, Colin Friels as TBA, and Zoe Carides as President Wallace.
Are you looking forward to watching the second season of 'Floor Is Lava' on Netflix? Let us know your thoughts in the comment section below.
Scroll Down for Comments and Reactions