'Idina Menzel: Which Way to the Stage?' What's It All About
Idina Menzel brings herself and her melodious, powerful voice to Disney+ in the documentary film Idina Menzel: Which Way to the Stage?
The heart-warming inspirational Disney Special tackles the journey of Tony Award-winning star Idina Menzel on her way to achieving her lifelong dream. 
Apart from leading a concert at Madison Square Garden in New York City, her hometown, Idina dreamt of being a music star, which she realized through her Broadway and off-Broadway performances.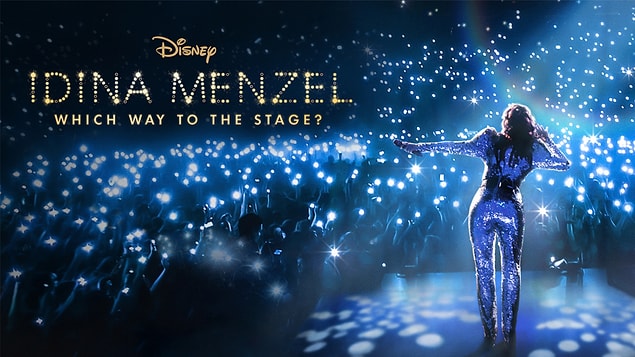 'Idina Menzel: Which Way to the Stage?' Preview
In the trailer, we see Idina talk about her experiences on her path to stardom. It offers a glimpse of exclusive performance footage and raw interviews, including the icon talk about her record deal failure, which forced her to start over again. 
In addition to her on-stage success, the upcoming film shows Idina's challenges as a working mom and wife and the taxing travel schedules while rehearsing for her show at the famous New York arena. 
The documentary film is produced by Anne McCabe, Jana Edelbaum and Rachel Cohen.
Idina Menzel has been a stage sensation for many years, earning her honorific crown, 'Queen of Broadway'. She is best known for her role of Elphaba in the 2003 Broadway musical Wicked, performing alongside Kristin Chenoweth as Glinda, for which she scooped a Tony Award for Best Actress in a Musical. 
Besides Broadway, Idina has also enjoyed a successful film and TV career, starring in Disney's Enchanted (2007) and its sequel, Disenchanted (2022). She was a recurring cast in Fox's Glee playing the role of Shelby Corcoran, a Glee club instructor. She also featured in Camilla Cabello's Cinderella (2021) and Adam Sandler's Uncut Gems (2019). 
The 51-year-old star is also the iconic voice behind Frozen's Queen Elsa. The song 'Let it Go', which she recorded for the first film, became an enormous success, winning an Academy Award for Best Original Song and hitting position five on the Billboard Hot 100.
If you are an upcoming performer or singer looking for motivation, look no further than Idina Menzel's life story.
Idina Menzel: Which Way to the Stage? Is now available for streaming on Disney+.