Hulu's Forthcoming Series Adaption of 'A Court of Thorns and Roses' will be Exactly Up the Alley of Romantic-Fantasy Fans
News
>
Hulu's Forthcoming Series Adaption of 'A Court of Thorns and Roses' will be Exactly Up the Alley of Romantic-Fantasy Fans
New Adult fantasy is quite popular right now, and we're seeing a lot of book to movie adaptations. A Court of Thorns and Roses by Sarah J. Maas is now the most popular faerie fantasy book, thus it's only natural that the ongoing series would be adapted. Fans should be ecstatic, especially because Outlander showrunner Ron D. Moore will be in charge of the Hulu TV program. 
Moore is adapting A Court of Thorns and Roses from Sarah J. Maas' bestselling series of novels, which she is co-writing with him. The show was first revealed in March of 2021, according to Deadline. Maas confirmed that the pilot was in the works on Instagram at the time. She stated in the post, 'I'm now hard at work writing the pilot with Ron,' referring to Moore as one of her 'creative idols.'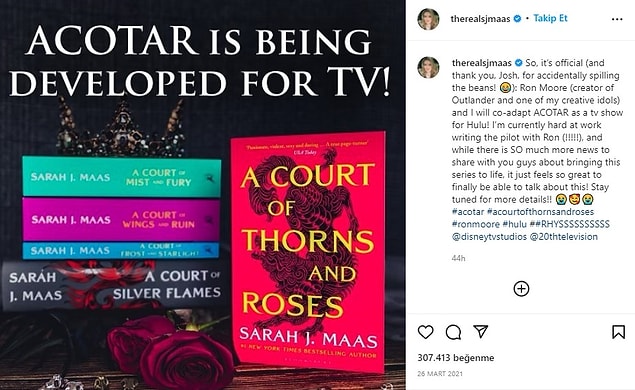 'So, it's official (and thank you, Josh, for accidently spilling the beans!)' Maas announces the book's TV adaptation on Instagram.
If the show is a hit, there will be plenty of content for future seasons. Maas has published five books to date, the most recent of which, A Court of Silver Flames, was released in February. There's no indication on when A Court of Thorns and Roses will hit screens, but stay tuned!