News
Hulu Drops The Trailer for Teenage Rom-Com Movie 'Crush'
Hulu Drops The Trailer for Teenage Rom-Com Movie 'Crush'
With more acceptance of the LGBTQ+ community comes more LGBTQ+ TV content. Hulu's teenage rom-com film based on high school lesbian romance is in the works and is set to land on the streamer's catalogue on April 29. Hulu's tweet announcing the movie's premiere reads, "You can't help who you're drawn to. #CrushMovie."
Crush Storyline
Revealing a cast of fresh young faces, Crush follows a Cal Arts student Paige who joins her school's track team to pursue her crush, Gabriella. She then realizes that the one she had originally set her eyes on isn't the one who steals her heart. 
She's not alone in the love journey. Aided by her best friend, Dylan the lover girl navigates the lesbian dating scene at their school. Dylan advises Paige to look into other available love options apart from the popular Gabriella. Going against her BFF's advice, Paige joins the school's track team only to be partnered with AJ, her crush's sister. Soon, a queer romance begins to bud between the two girls. As their chemistry grows, AJ helps Paige to be more vulnerable and express her feelings more through her paintings and also on the track field.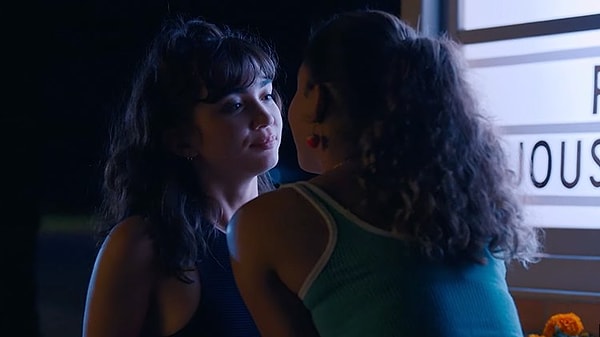 Topics of Discussion
Other than teen romance, Crush tackles the hot discussion involving a push-pull between arts and athletics, with the leading actress being drawn to both sides. The movie's trailer ends with Paige saying, 'I'm learning that when it comes to art, you can't force it. It's a lot like love.'
Cast Members
The comic icon Megan Mullaly gets to play Paige's mother. The roles of the two lesbian lovebirds, Paige and AJ, are portrayed by Rowan Blanchard and Auli'li Cravalho respectively. Other amazing actors joining the protagonists are Michelle Buteau, Aasif Mandvi, Teala Dunn, Tyler Alvarez, Isabella Ferreira, Addie Weyrich, Ryan Wilson, Patrick Klein, Addyson Tabankin and Rebecca Wilk.
Premiere Date
Crush premieres exclusively on Hulu on Friday, April 29.
Scroll Down for Comments and Reactions