News
Why Did Alicent Attack Rhaenyra in 'House of The Dragon' Episode 7?
Why Did Alicent Attack Rhaenyra in 'House of The Dragon' Episode 7?
Recently, actress Olivia Cooke discussed why Princess Rhaenyra Targaryen (Emma D'Arcy), has been attacked by her character, Queen Alicent Hightower, in House of Dragon episode 7.
Game of Thrones, the popular HBO fantasy-drama series, focuses on the family strife within the House of Targaryen. When the death of King Viserys is near, brought on by a disease that has been slowly destroying his body, the tension between Rhaenyra and Alicent is getting higher.
The royal families gathered together at Driftmark in the House of the Dragon's seventh episode. For that reason, they are going to bury Lady Laena Velaryon (Nanna Blondell) in the sea. The sorrowful event is interrupted when Alicent's son, Prince Aemond Targaryen (Leo Ashton), goes forth into the night, claiming Leana's former dragon, named Vhagar, as his own. resulting in a violent confrontation between Leana's daughters and Prince Aemond, who alleged that Prince Aemond stole the dragon that was rightfully theirs.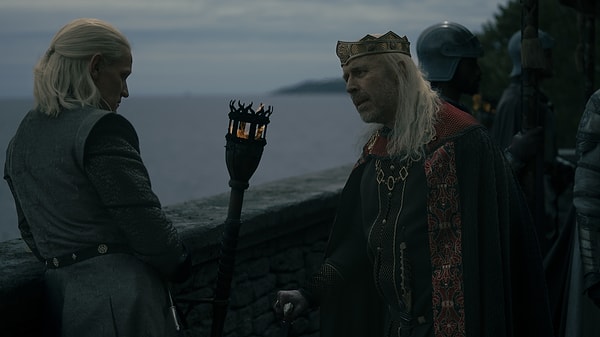 In an effort to protect the girls, the sons of Rhaenyra attacked Aemond, but in order to be afraid, he made fun of the guys for being bastards. In an act of self-defense, Prince Lucerys Velaryon (Harvey Sadler) suddenly stabs the Targaryen prince's eyes. Alicent and Rhaenyra later defended their kids' behavior, and King Viserys seemed to take their daughter's side. In an unexpected turn of events, out of anger, Alicent then took a dagger and attacked Rhaenyra, slicing her forearm.
During a recent interview on the Official Game of Thrones Podcast: House of the Dragon Episode 7, Olivia Cooke explained the reason behind Alicent's attack on Rhaenyra. She added that Alicent is under excessive stress because the Queen thinks she doesn't have her husband's support. Even though the safety of her own children is obviously in danger,
What will Alicent do next?
Alicent's feelings of hopelessness and isolation have been clearly understood by Cooke, who is currently taking on the role. After seeing how cruelly maimed Aemond is, Alicent believes she must take things into her own hands in order to protect her loved ones if no one else will. Her actions set up the 'Dance of the Dragons' conflict between the Targaryens, which will pit Alicent and Rhaenyra against each other and their many allies in a fight for the Iron Throne.
Another time jump is hinted at in The House of Dragons episode 8 trailer, implying that King Viserys will be on his deathbed. Alicent then definitely governs alongside his father, Ser Otto Hightower, who is played by actor Rhys Iffans. While King Viserys is unconscious, it risks Rhaenyra's chance to become the most powerful person in all of Westeros. She and her new husband, Prince Daemon Targaryen, need to hurry up in order to prepare for her father's passing and establish her claim to the Iron Throne. But as the first season of House of the Dragon comes to a close, Alicent will definitely try one last time to get King Viserys's oldest son, Prince Aegon Targaryen, who has already proven himself to be a king.
House of the Dragon | EPISODE 7 NEW PREVIEW TRAILER | HBO Max (HD)
Scroll Down for Comments and Reactions