HBO Max Just Released the Second Season's Official Trailer for its Emmy-award Winning Original Series 'Hacks'
News
>
HBO Max Just Released the Second Season's Official Trailer for its Emmy-award Winning Original Series 'Hacks'
The Emmy-award winning HBO Max original series Hacks returns for a second season on May 12. The streaming platform dropped the show's season 2 official trailer last night, showcasing Deborah Vance and Ava taking a road trip in a luxurious RV.
HBO Max also released a poster on Twitter of the duo lying on an open country road with the RV seen from a distance.
Synopsis of 'Hacks' Season 2
Picking up from the previous season's ending, stand-up comedian icon Deborah Vance embarks on a workshop tour across the country after losing her Vegas residency. She is joined by an upcoming comedian and apprentice, Ava.
Who's New And Who's Not
Reprising their roles are Emmy-award winner Jean Smart as Deborah Vance and Emmy-award nominees Hannah Einbinder and Carl Clemons-Hopkins as Ava and Marcus.
The recurring cast featured this season includes Kaitlin Olson as Deborah "DJ" Vance Jr., Christopher McDonald as Marty Ghilain, Paul W. Downs as Jimmy LuSaque, Ugly Betty alum Mark Indelicato as Damien, Poppy Liu as Kiki, Johnny Sibilly as Wilson, Megan Stalter as Kayla, Rose Abdoo as Josefina, Angela Elayne Gibbs as Robin, Lorenzo Izz as Ruby, Nina Tarr as Fabriziana and Jane Adams as Nina.
Laurie Metcalf, Martha Kelly and Min-Na Wen are the show's newest recurring cast members, whereas comedian Margaret Cho joins as a guest star.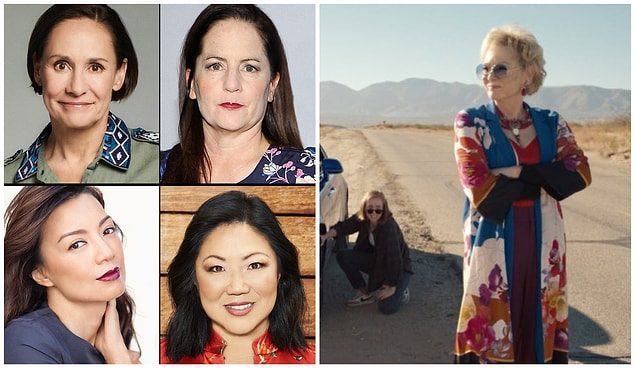 The Show's Accolades
Hacks is one of the most successful TV shows and HBO Max's pride and joy, with the first season accumulating 100% Rotten Tomatoes and an audience score of 87%. 
Season two's first two episodes will land on HBO Max on Thursday, May 12. Thereafter, two more will debut every week until June 2. Let's cross our fingers that the second season lives up to the first's high calibre.