News
'Gutsy' Season One Gets an Apple TV+ Premiere Date
'Gutsy' Season One Gets an Apple TV+ Premiere Date
In the current era of women empowerment, streaming platforms willingly distribute women-oriented shows in return for the impressive number of fans internationally. 
Apple TV+ is the most recent streamer to acquire such a show, with the first season of Gutsy by Chelsea and Hillary Clinton. The pair, mother and daughter, have paired up to celebrate their most cherished ladies in a TV show set to launch earlier in September.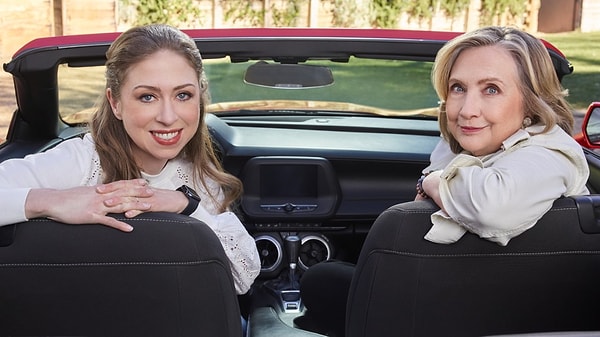 More About 'Gutsy' Season One
Apple TV Plus' Gutsy, an adaptation of the New York Times award-winning novel titled The Book of Gutsy Women, was initially disclosed in December 2020, with the original title, Gutsy Women. Nearly two years later, the series landed an Apple TV+ launch date. 
Gutsy focuses on the Clintons as they dive into inspiring and entertaining conversations with some international women icons. The hosting duo incorporates Kim Kardashian, Kate Hudson, Amber Rufin, Natalie Wynn, Mariska Hargitay, Abby Wambach, Goldie Hawn, Amy Schumer, Wanda Sykes, Gloria Steinem, Dr Jane Goodall, and Megan Thee Stallion. Each episode showcases different issues from the guests, with Chelsea and Hilary as the hosts.
The official trailer from Apple TV's primary YouTube Channel sees Clinton introduce the viewers to the show, with a background of her extraordinary women. It proceeds to happy 'selfies', cheers to rib-cracking moments, and candid conversations, with the guests sharing their journey to who they've become today.
Who are the Series' Creators?
The series is chiefly produced by Chelsea and Hillary alongside Anna Chai, Banks Tarver, Ken Druckerman, Roma Khanna, Siobhan Sinnerton, and Johnny Webb. Claire Featherstone and Kevin Vargas are the producers, with Bari Lurie and Huma Abedin as the consulting producers. Gutsy is a Hidden Light Productions and Left/Right LLC co-project.
Hilary Clinton has taken it to her verified Twitter account to welcome her audience under a statement, "What do these ladies have in common? They are gutsy! Come with us to intimate conversations with a few of the world's bravest and boldest women." She then proceeds to a 2-minute, 6-second trailer that offers a deeper look into the series.
'Gutsy' Release Date
The first season of Gutsy lands on Friday, September 9th; Apple TV+ subscribers can access the show conveniently, while the non-subscribers can acquire a monthly or yearly subscription at a relatively fair price.
The streamer took it to its main Twitter page to share the premiere news, alongside a trailer similar to Hillary's, "Join Hillary and Chelsea on this remarkable journey to uncover what it means to be gutsy."
Scroll Down for Comments and Reactions