'Grey's Anatomy' Season 19 Adds New Cast Members: Find Out Who They Are
Grey's Anatomy is one the longest-running TV shows in history-excluding animated series like The Simpsons and Family Guy. 
Having premiered in 2005, the medical drama series centers on the lives of medical practitioners of Grey Sloan Hospital, consisting of surgical interns, attendings and residents as they train to become doctors. They strive to balance work and professional life.
Grey's Anatomy's initial cast comprised Ellen Pompeo, Sandra Oh, Katherine Heigl, Justin Chambers, T.R. Knight, Chandra Wilson, James Pickens Jr., Isaiah Washington and Patrick Dempsey. However, the cast has undergone major changes throughout the show. 
Word has it that season 19 could be the series finale, but the introduction of new cast members might open the door for an extension. We'll just have to wait and see. Meanwhile, here's a little info about the newbies.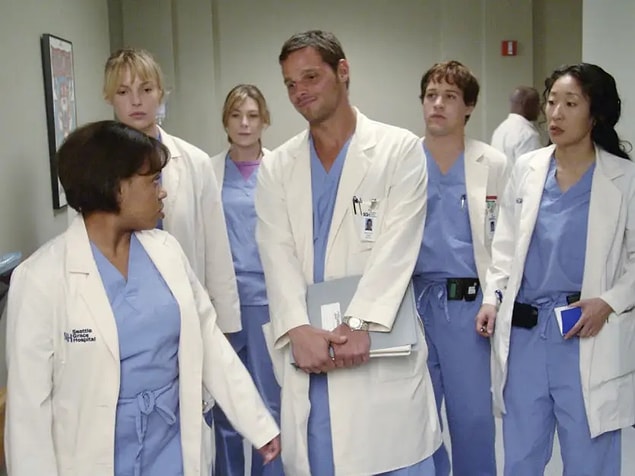 Glee veteran Harry Shum Jr. will join the show as Daniel 'Blue' Kwan, an intelligent but impatient medical student. According to Deadline, Daniel is generous and competitive and likes to be at the top of things.
He is older than his teammates because he went through family issues that snailed his career goals, meaning he has a lot to prove. 
Shum Jr. is a budding actor who earned public recognition from his role as Mike Chang in the musical teen drama series Glee. Apart from that, he featured in the dance films Step Up 2 The Streets and Step Up 3D as one of the incredibly talented dancers. 
Glee fans can attest to his groove talent as he was always at the forefront of Glee's New Directions' choreography. The actor also featured in 2018's Crazy Rich Asians, All My Life (2020), the series Shadowhunters and Netflix's Hidden Dragon: Sword of Destiny and Crouching Tiger.
Midori Francis will play the role of Mika Yasuda, a freshman surgical resident. The middle child among eight siblings, Mika is often overlooked and underestimated, and she takes advantage of this. She is also overwhelmed by large med school student loans but optimistic that she'll pass the program and become one of the best students. 
Francis starred in HBO Max's The Sex Lives of College Girls and the Netflix Christmas series Dash & Lily, for which she received a Daytime Emmy Award nomination.
Alexis Floyd portrays Simone Griffin on Grey's Anatomy season 19. She is also a first-year surgical resident who is social, quick-witted and ambitious. Her family is complicated, and though she grew up in Seattle, she's shunned working at Grey Sloan due to a tragic past with the hospital. 
Floyd is recognized for her role in Netflix's miniseries Inventing Anna, based on the real-life experience of con artist Anna Delvey. She starred as Neff, a fictionalized version of Delvey's loyal friend Neffatari Davis.
Another addition to the team of first-year surgical residents is Adelaide Kane's, Jules Millin. Though raised in a hippie family, she managed to become a responsible adult, often forced to take care of her parents as well. 
Jules can be a little overbearing but always means well. She's not scared of bending the rules to save a life, even if it means landing her in hot water. 
Kane's first TV role was in the Australian soap Neighbour. However, her breakthrough was in CW's historical drama series Reign, where she landed a lead role. She has also starred in Teen Wolf, Once Upon a Time, SEAL Team and This is Us.
Lastly, Niko Terho joins the fresher first-year surgical resident crew as Lucas Adams, the black sheep of his family. He is charming and likeable with a great mind but doesn't have the grades to match. 
Despite not being highly intelligent, he's steadfast in proving himself as a medic, which involves working harder and relying less on his socialization skills. 
Terho's breakout role was in the film, The Thing About Harry (2020), where he played the main character Harry Turpin alongside Grey's Anatomy's regular cast Jake Borelli, who starred as Sam Baselli. Borelli plays surgical resident, Dr Levi Schmitt, in the series. 
Terho was a professional soccer player for England before moving to New York to pursue acting.
When Will 'Grey's Anatomy' Season 19 Premiere?
The nineteenth season of the medical drama series was announced on January 10 2022. It will set to launch its first episode on Thursday, October 6 at 9 PM ET on ABC. You can catch the episode the following day, October 7 on Hulu. 
Here's the release schedule for the first five episodes of the show's season 19:
• Episode 1: "Everything Has Changed"- October 6 2022
• Episode 2: "Wasn't Expecting That"- October 13 2022
• Episode 3: "Let's Talk About Sex"- October 20 2022
• Episode 4: TBA- October 27 2022
• Episode 5: "When I Get to the Border"- November 3 2022