News
Get Ready To Armor Up Once Again As 'Ultraman' Is Coming Back For Season 2 This April
Get Ready To Armor Up Once Again As 'Ultraman' Is Coming Back For Season 2 This April
Since the events of the first Ultraman, many years have passed. The famous 'Giant of Light,' though only a memory, is thought to have left Earth and returned to his home planet. Shinjiro Hayata learns about his father's past as Ultraman. Shinjiro inherits his father's mantle as the new Ultraman of the Earth.
The 2019 Ultraman anime's plot was inspired by writer Eiichi Shimizu and illustrator Tomohiro Shimoguchi's Ultraman manga series from 2011.
When Will 'Ultraman' Season 2 Be Streamed?
Netflix has confirmed the release of 'Ultraman' Season 2 which is set to premiere on April 14th, 2022. It comprised 26 episodes.
Where To Watch 'Ultraman' Season 2?
Netflix is the only place to watch Ultraman Season 2 because it has the exclusive rights to stream Ultraman anime.
Is There 'Ultraman' Season 2 Official Trailer?
The 'Ultraman' Season 2 trailer was released on January 5, 2022. The official YouTube channel of Netflix Anime has streamed the official trailer of Season 2 on January 6th. You can take a sneak preview of the masked manga hero right here.
ULTRAMAN Season 2 | Official Trailer | Netflix Anime
What Is About 'Ultraman' Season 2?
Rena and Shinjiro are among the many people who have vanished from Earth. Dark Star, an alien organization, is at the heart of this movement.
Dark Star, on the other hand, offers the earthlings the choice of giving them half of the planet or sacrificing the ones they've kidnapped. Rena and Shinjiro are aboard their ship, which is now orbiting the Sun. Shinjiro soon learns of Dark Star's schemes. He is, however, caught in the crossfire between SSSP and Dark Star, and is on the verge of death.
Despite this, the ultimate confrontation pits all six Ultraman heroes against the Mecha-Giant Fortress. Watch as ULTRAMAN, SEVEN, TARO, ZOFFY, JACK, and ACE defend the city against the Giant Fortress.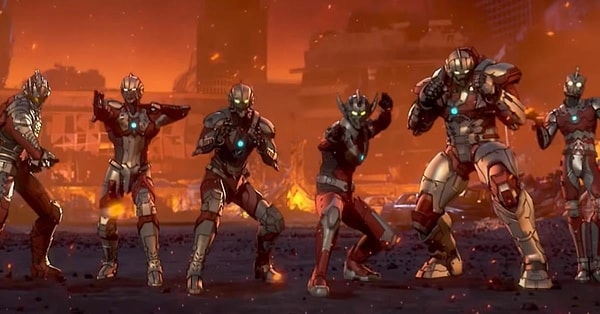 Who Are The 'Ultraman' Season 2 Voice Actors?
Netflix's "ULTRAMAN Season 2 anime TV series will feature Japanese voice actors Ryouhei Kimura (Shinjirou Hayata), Takuya Eguchi (Dan Moroboshi), Megumi Ban (Seiji Hokuto), Hideyuki Tanaka (Susumu Hayata), Ryouta Takeuchi (Jack), Tatsuo Suzuki (Kotaro Azuma), and Minoru Shiraishi (Shiraishi).
Are you ready for the next 'Ultraman' Adventure on Netflix on April 14th? Let us know in the comment section below.
Scroll Down for Comments and Reactions