News
'George & Tammy' and Other Most Memorable Miniseries of 2022 to Make the Ultimate Year End
'George & Tammy' and Other Most Memorable Miniseries of 2022 to Make the Ultimate Year End
The best thing about limited series is that they keep their stories short and ambitious without you having to commit to hundreds of new episodes.
The finest miniseries of 2022 certainly kept it short and sweet and came in various genres, including biographies, dramas, thrillers to comedies, you name it. 
The biographical drama Theodore Roosevelt focuses on one of history's most compelling and youngest U.S. Presidents, who was a cowboy, conservationist, adventurer, and soldier, among other things. 
Other limited releases like That Dirty Black Bag and The Last Days of Ptolemy Grey are dramas that tell deft stories all wrapped up in short episodes. 
And then there is a wide array of thrillers like The Patient, A Friend of the Family, Candy, The Woman in the House Across the Street from the Girl in the Window just to name a few. 
Below is our list of the best new limited series that debuted in 2022 as per critic and audience ranking.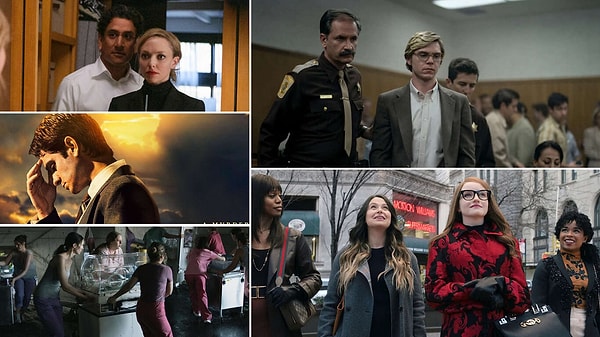 Anne is a four-episode limited series based on Anne Williams, a woman who campaigned for the Hillsborough disaster of 1987 victims. 97 Liverpool football fans, including Anne's 15-year-old son, died at Hillsborough Stadium in Sheffield. 
Anne was given the Helen Rollason Award at the BBC Sports Personality of the Year Awards ceremony in 2013 for her dedicated campaign for justice. 
The series stars Maxine Peake as the titular character. It received a grand score of 100% on Rotten Tomatoes.
Anne is available to buy or rent via Amazon Prime Video.
Pam & Tommy is an eight-part biographical drama series detailing the eccentric marriage between actress Pamela Anderson and Tommy Lee, Mötley Crüe's drummer, when their sex tape leaked.
The miniseries is a Hulu original that sees Lily James (Mamma Mia! Here We Go Again) and Sebastian Stan (Captain America) starring in the lead.
It also features an ensemble cast including Seth Rogen, Nick Offerman, Jason Mantzoukas, Taylor Schilling, Mozhan Marnō and Paul Ben-Victor, which make it more binge-able. 
Pam & Tommy scored fairly well- 79% on Rotten Tomatoes.
Mood is a British musical drama miniseries about Sasha (Nicôle Lecky), a 25-year-old broke wannabe musician who lands in hot soup in the world of online influencers. 
Sasha strives to break into the music industry while staying out of trouble. Lecky not only plays the lead, but also crafted the show based on her one-woman play Superhoe.
The six-part series is available on amc+ and Prime Video and has a splendid 100% Rotten Tomatoes score.
Starring Julia Roberts as the wife of U.S. Attorney General John N. Mitchell, Martha Mitchell, Gaslit is a political thriller eight-episode series chronicling the whereabouts of the Watergate scandal.
The Watergate scandal was a major political issue during President Richard Nixon's reign from 1972 to 1974, leading to his resignation. 
Gaslit also stars Sean Penn as John N. Mitchell, Dan Stevens as John Dean, Betty Gilpin as Mo Dean, and Shea Whigham as G. Gordon Liddy.
It has a high ranking of 89% on Rotten Tomatoes. 
You can stream Gaslit with Starz on Hulu or Amazon Prime Video.
The Staircase is among the most raved-about miniseries of the year, and with good reason.
Starring multi-award-winning stars Toni Collette and Colin Firth, The Staircase tells the story of Michael Peterson, a writer convicted for the murder of his wife Kathleen Peterson, who was found lifeless at the bottom of their house's staircase. 
The miniseries, which garnered a 92% score on Rotten Tomatoes is available on HBO Max. 
It also stars Patrick Schwarzenegger, Sophie Turner, Juliette Binoche, Olivia DeJonge, Michael Stuhlbarg, Dane DeHaan, and Parker Posey among others.
June: 'This is Going to Hurt'
Taking things on a light note just at the right time of the year is the seven-episode British medical comedy-drama series This is Going to Hurt. 
Derived from the best-selling non-fiction memoir of the same title, the show centers on junior physician Adam Kay (Ben Whishaw), an Obstetrics and Gynaecologist that strives to keep his personal life afloat while navigating his chaotic medical career at the National Health Service hospital.
This is Going to Hurt ranks 95% on the Rotten Tomatoes scale and is praised for its smart combination of humor and pain. 
You can watch it on amc+ under a subscription or for free on Prime Video.
An Apple Studios creation, Black Bird follows convicted felon James 'Jimmy' Keene Jr., a coming-of-age footballer, whose looking at a 10-year sentence without parole for a drug and weapons conspiracy. 
He is offended by a deal to get a confession out of fellow convict Lawrence 'Larry' Hall (a serial killer and rapist suspected to have murdered 14 women) to earn his freedom. 
Jimmy discovers that the mission may not be as easy as thought. The highly praised Apple TV+ series stars Taron Egerton as Jimmy, Paul Walter Hauser as Larry, the late Ray Liotta as James "Big Jim" Keene, Jimmy's dad, Greg Kinnear and Sepideh Moafi. 
Black Bird scores 97% on Rotten Tomatoes score and is recognized for its moral complexity and outstanding ensemble.
Lost Ollie is a heartwarming computer-animated four-part series that narrates the touching tale of a rabbit doll Ollie who decides to journey back to his best friend Billy, after finding himself at the last and found section of an antique shop. 
Jonathan Groff voices Ollie while Mary J. Blige and Tim Blake Nelson voice Rosy and Zozo, Ollie's dolly travel companions. Jake Johnson, Gina Rodriguez and Kesler Talbert are also featured. 
The Netflix creation ranks 93% on the Rotten Tomatoes scale.
September: 'Dahmer-Monster: The Jeffrey Dahmer Story'
Though the biographical limited series came under fire for so many reasons (57% Rotten Tomatoes; 93% audience likeability), it has been one of Netflix's most-watched shows, topping the charts in September. 
Starring Evan Peters as the infamous gay serial killer Jeffrey Dahmer, the 10-part series chronicles his calloused upbringing, the murder of some of his victims, gripping confession and life sentencing whereupon he was murdered by his fellow convict. 
Peters received numerous praises for going above and beyond to portray Jeffrey Dahmer, who died in 1994 aged 34. 
He is joined by Niecy Nash, Molly Ringwald, Richard Jenkins, Penelope Ann Miller, and Michael Learned, among other casts who helped bring the buried unnerving story to life.
The Playlist is a six-episode docu-drama Netflix show that details the fictionalized story of the conception of the Swedish music streaming platform Spotify as well as its hurdles. 
It features Edvin Endre as Daniel Ek, co-founder and CEO of Spotify and Christian Hillborg as Martin Lorentzon, co-founder and primary investor of Spotify.
The Playlist landed an impressive rating of 100% on Rotten Tomatoes.
November: 'Fleishman is in Trouble'
The drama miniseries tell the story of 41-year-old recently divorced Dr Toby Fleishman (Jesse Eisenberg) whose newfound bachelorhood is cut short by the untimely disappearance of his ex-wife Rachel (Claire Danes). 
With the help of his friends Libby Epstein (Lizzy Caplan) and Seth (Adam Brody), Toby balances his work-personal life dilemma and looks into the root of his marriage to discover what happened to his ex.
The series also stars How I Met Your Mother's Josh Radnor alongside Christian Slater and other Hollywood favorites. 
The eight-part series scores 83% on Rotten Tomatoes and is available to stream on Hulu.
December: 'George & Tammy'
George & Tammy is a limited drama series that stars Michael Shannon and Jessica Chastain as the country music power couple George Jones and Tammy Wynette in their turbulent but endearing relationship. 
Besides the two, the show rounds up Katy Mixon, Steve Zahn, Walton Goggins, Kelly McCormack, Kate Arrington, and Hendrix Yancey, to mention a few. 
The six-part series is still airing on Showtime, with the final two episodes set to debut on January 1 and January 8, 2023.
It scores 84% on Rotten Tomatoes, with particular praise for Chastain and Shannon's performances.
Scroll Down for Comments and Reactions