News
'Floor Is Lava' is Back for the Hotter Second Season on Netflix: Know the Release Date, Trailer & More
'Floor Is Lava' is Back for the Hotter Second Season on Netflix: Know the Release Date, Trailer & More
Are you fully ready for more of 'Floor Is Lava'? Season 2 of Netflix's competition series 'Floor Is Lava,' which combines Wipeout with bubbling hot, skin-melting lava, promises to be 'hotter than ever'.
'Floor Is Lava' was renewed for a second season in April 2021, and fans can now look forward to more funny wipeouts.
The series is based on a children's game that allows users to unleash their inner child. Season 1 of Floor Is Lava premiered in June 2020 and was an instant sensation on Netflix. For two weeks after its premiere, it was Netflix's most-watched title in the United States.
'Floor Is Lava Season 2' Release Date
The second season of 'Floor Is Lava' will consist of five 30-minute episodes, all of which will be available to view on Netflix on June 3rd.
'Floor Is Lava Season 2' Trailer
Netflix dropped the first 'Floor Is Lava Season 2' trailer on Monday, May 9 ahead of the competition series' return on June 3.
Some highlights from the trailer: One confident player claims that her sweat will be the only thing that touches the lava. The following scene depicts her sliding into the lava. Her sweat did, in fact, make contact with it! Another player ascends the volcano and exclaims melodramatically, 'Oh, God!' My face is covered in lava! ' he said, as if his face was in peril. Observing the players slip and tumble down the volcano is also physical comedy gold.
Check out the Floor Is Lava Season 2 trailer, below.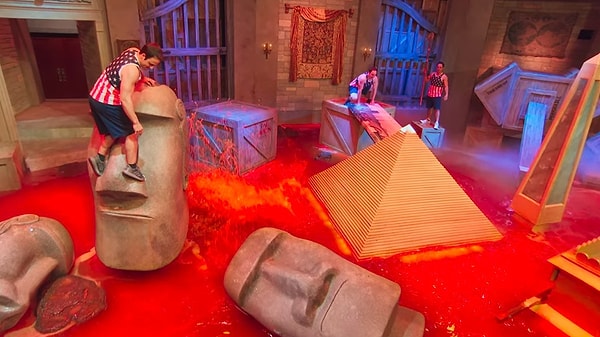 'Floor Is Lava Season 2' Synopsis
In Floor Is Lava Season 2, teams will traverse various obstacle courses trying their best to avoid the "lava" below. And Netflix promises there are "bigger obstacles, higher stakes, and even hotter lava," in the new episodes, plus an all-new feature — a huge and very slippery volcano. That volcano will have to be conquered in order to win, and by the looks of the trailer, that's going to be a pretty impossible task.
A. Smith & Co. Productions is in charge of the show's production. Executive producers are Arthur Smith, Anthony Carbone, Frank Sinton, Anthony Storm, Brian Smith, and Caroline Baumgard. Haymaker's executive producers are Irad Eyal and Megan McGrath (West).
Are you looking forward to watching the second season of 'Floor Is Lava' on Netflix? Let us know your thoughts in the comment section below.
Scroll Down for Comments and Reactions