News
Five Must-Watch T.V. Series of 2022 So Far!
Five Must-Watch T.V. Series of 2022 So Far!
You can agree that the first half of 2022 has been full of exciting content from several streaming platforms, right! 
Search Party, The Inventor, Angelyne, Our Flag Means Death, Minx, Pachinko, Slow Horses, Barry, Undone, and Hack are just a few releases. 
We've handpicked a few of these pieces for you for several reasons that will have you siding with us.
1. HBO Max's 'Hacks Season Two'
Has there been any other TV show offering more outstanding performance than HBO Max's Hacks? The first season which debuted in May 2021, had Ava Daniels and Deborah Vance striving to save their comedy professionalism. 
Through several ups and downs, the couple proves to be strong. The second season, which launched on May 12th, continued with the pair's journey.
The first season received a whopping 99% critics consensus on Rotten Tomatoes, a win that motivated the creators to do better. The second season outdid its predecessor with 100% critic consensus. 
Hacks stars Deborah Vance, played by Jean Smart, Ava Daniels, portrayed by Hanna Einbinder, Carl C-Hopkins as Marcus, Mark Indelicato as Damien, Paul W. Downs as Jimmy Lusaque Jr., and Josefina, impersonated by Rose Abdoo. 
Morgan Sackett, David Miner, Michael Schur, Lucia Aniello, and Downs are the chief producers of the drama series.
2. HBO Max's 'Barry Season Three'
The third season of Barry landed on April 23rd, 2022, after the previous season ended abruptly. It explores Barry's, leaving all other forces behind. It came with a great hit filled with changes and transformations on Barry. 
This season offers all the answers to your curious questions concerning Barry.
Barry season three incorporates Stephen Root enacting Monroe Fuches, Bill Hader playing Barry, Sarah Goldberg enacting Sally Reed, Henry Wrinkler representing Gene, and Noho Hank depicted by Anthony Carrigan. 
This season managed over 85% audience score rating on Rotten Tomatoes and an 8.6 out of 10-star rating on IMDb. These scores tell that Barry is a must-watch series.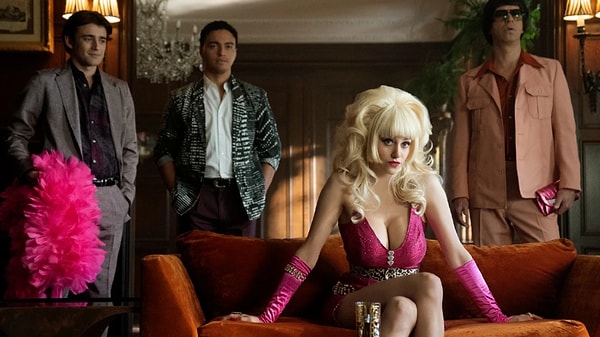 Peacock ensures its fans get the best when it comes to thrilling series. The streaming platform came in with another accomplishment Angelyne, to add to its 2022 series library. 
The series has scored 86% critics rating on Rotten Tomatoes with a 5.7 out of 10 stars on IMDb.
The five-part limited series concentrates on fame, survival, billboards, and romance, among other factors. It centers on a designative D-list star who gained attention in the 1980s through the Los Angeles billboards featuring her curvy signatory figure. 
The film skips through timelines, displaying the star's rise to fame alongside documentary interviews of when her billboards first emerged. 
The trailer presents the genesis of how Angelyne utilized billboards to make her signatory figure and image infamous. 
Angelyne stars Emmy Rossum depicting Angelyne, Martin Freeman of Fargo, portraying Maurice Wallach, Alex Karpovsky of Girls enacting Jeff Glasner, and Hamish Linklater of Midnight Mass representing Rick Kraus.
Other characters include David Krumholtz of The Deuce, Lukas Gage of The White Lotus, Molly Ephraim of The Front Runner, Charlie Rowe of Rocketman, and Michael Angarano of This Is Us, with Philip Ettinger of First Reformed.
4. Apple TV Plus's 'Pachinko'
Adapting a culturally complex and rich book like Min Jin Lee's Pachinko is no child's job. Fortunately, Soo Hugh and her crew created excellent visual navigation in the first season of the Apple T.V. Plus series. 
Pachinko follows Korean generation families as they adjust to personal, political, geographical, and economic changes. Directors Kogonada and Justin Chon present the story in attention-capturing imagery, making it feel oddly tangible and remarkable. 
With a highly talented and terrific cast, especially Youn and Kim, Pachinko perfectly presents the emotional toll of displacement and immigration. The open theme song dramatically adds to the film's incredible performance. 
Pachinko managed an outstanding 93% audience score per Rotten Tomatoes with an 8.6 out of 10-star rating on IMDb.
The delightful, thoughtful, and hysterical HBO Max's Minx has second-wave feminism on the low-brow. In the 1970s setup, this Ellen Rapoport's comedy series follows Joyce, a determined young lady from L.A. who joins efforts with Doug, a sleazy publisher, to begin the number one women's erotic magazine. 
Minx, which already has been renewed for season two, resembles films like Mad Men due to its setting but carries a load of freshness unique to Ellen Rapoport's voice. As silly as it is brilliant, Minx is on the way to the best series of the year 2022. 
The series has garnered a 97% critics consensus on Rotten Tomatoes and a 7.7/10-star rating on IMDb. The series is still available for streaming via HBO Max.
Ellen Rapoport produces the series alongside Rachel L. Goldenberg, Ben Karlin, Dan Magnante, and Paul Feig. 
Minx stars Lennon Parham as Shelly, Jessica Lowe as Bambi, Oscar Montoya as Richie, Idara Victor as Tina, Jake Johnson as Doug, and Ophelia Lovibond as Joyce.
Scroll Down for Comments and Reactions