News
'Everything Everywhere All At Once' Dominates Online Reviews Ahead of Wide Theatrical Release
'Everything Everywhere All At Once' Dominates Online Reviews Ahead of Wide Theatrical Release
Everything Everywhere All At Once, the newest film from distribution company A24, has received nothing short of rave reviews after its showing at South by Southwest in March and a limited theatrical release a few weeks later. As of April 8th, this epic film is now in wide release!
Plot of 'Everything Everywhere All At Once'
Michelle Yeoh plays a woman who discovers the ability to access herself in parallel universes, only to learn that someone is set on destroying them all. Her quest takes the form of a superhero/action/adventure/comedy as well as an examination into the nuances of middle age and Chinese immigrant lives.
Cast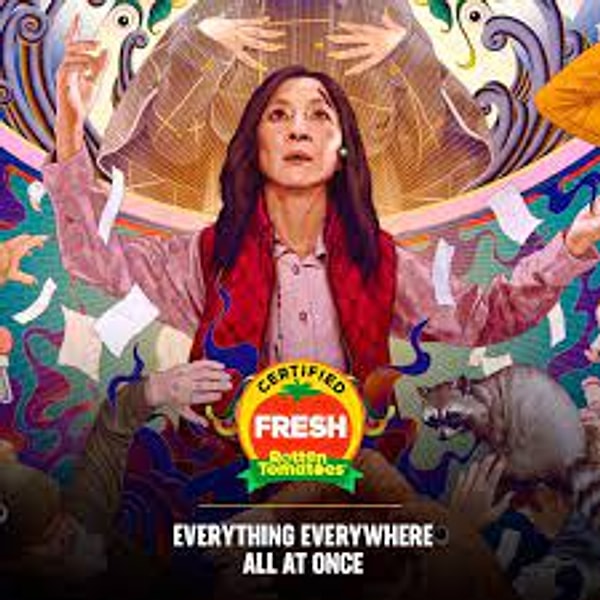 Praise for 'Everything Everywhere All At Once'
Preceding its wide release, Rotten Tomatoes has marked Everything Everywhere All At Once as Certified Fresh at 97% with an average rating of 8.8/10. IMDb currently has it at 8.9/10, and the movie review website/app Letterboxd has it at 4.6/5, which is tied for the #1 best narrative feature on the site with Parasite. Suffice to say, this movie is a must-watch for 2022.
The Other Bizarre Films of Dan Scheinert (and Kwan)
Swiss Army Man
Paul Dano stars as a man stranded on a deserted island who discovers and befriends a dead body played by Daniel Radcliffe. In his desperation, he finds out that this dead body has certain versatile abilities that he can harness akin to a Swiss Army knife.
The Death of Dick Long
When a night of three Alabaman friends' mysterious drunken activity leads to a fatal accident, the other two scramble to cover up whatever they did that led to their friend's death.
The other Scheinert/Kwan movies are both on Showtime for streaming! Check them out before an epic theatrical experience seeing Everything Everywhere All At Once.
Scroll Down for Comments and Reactions