News
Every Detail You Need to Know Ahead of 'Outer Banks' Season Three Release
Every Detail You Need to Know Ahead of 'Outer Banks' Season Three Release
It's almost time to meet our cherished teenagers on Netflix as the third season of Outer Banks peeps. Netflix ordered the first ten-episode season of Outer Banks in May 2019. 
The series premiered on the streaming platform in April 2020, receiving its season three's renewal in December 2021, whose filming began in February 2022.
Over its past two seasons, Outer Banks has managed 7.6/10 stars on IMDb, an 80% average audience score on Rotten Tomatoes (supported by a 79% average Tomatometer), and 4/5 stars on Common Sense Media.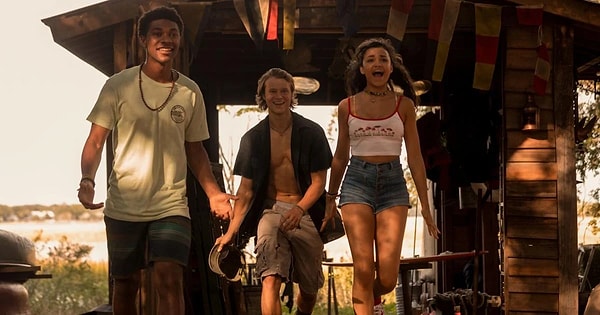 What's the Plot for 'Outer Banks' Season Three?
Outer Banks follows a constant disagreement between two groups of teenagers in the Outer Banks of North Carolina. The working-class group (Pogues) strives to find answers to the mysterious disappearance of John B's (the group leader) father. 
In their search, the crew encounters a treasure connected to John B's father. The previous seasons saw the Pogues lose the treasure to their rivals, the wealthy, and the hired law enforcers. Outer Banks also focuses on matters of friendship, love and money.
What's in the Trailer 'Outer Banks' Season Three?
Netflix uploaded the official teaser for Outer Banks season three on its main YouTube Channel in September 2022. 
The teaser glances at the medium-class lives of the Pogues as they prepare to escape from their rivals and their hired supporters. 
Netflix will definitely post the official trailer for more illustrations before the season premieres.
Who are the Creators of 'Outer Banks'?
Outer Banks is created by Shannon Burke, Jonas Pate, and Josh Pate, who also serve as the chief producers, alongside producers Carole S. Peterman, Sunny Hodge. 
Aaron Miller. J.B. Smith, Ital Ne'eman, and Gonzalo Amat work on the cinematography for Rock Fish Films and Red Canoe Productions.
Who Will Appear in 'Outer Banks' Season Three?
The main cast for Outer Banks season three includes Chase Stokes (John B), Madison Bailey (Kiara), Madelyn Cline (Sarah), Charles Esten (Ward Cameron), Drew Starkey (Rafe), Austin North (Topper), Rudy Pankow (JJ), and Jonathan Daviss (Pope).
When is 'Outer Banks' Season Three Coming Out?
Season three of Outer Banks debuts on Thursday, February 23, 2023, with all ten episodes landing simultaneously. 
Netflix shared the premiere date in an Instagram post on its verified account.
Scroll Down for Comments and Reactions