News
Eminem Net Worth: How Rich is the Rap GOAT?
Eminem Net Worth: How Rich is the Rap GOAT?
If you search the internet for the 'Top 10 Best Rappers Of All Time,' you will eventually find the name 'Eminem' listed at number one. Although some are in doubt, the majority would agree that he was crowned as the king of hip hop by Rolling Stone Magazine. The magazine took a survey of solo rappers who launched albums from 2009 to this time based on critics' opinions, YT video views, album sales, concert grosses, awards, and rankings on R&B charts. With all of this proof, it's easy to say that Eminem is the King of the Rappers.
Aside from being a multi-platinum selling rapper, Eminem is also an occasional actor, record producer, songwriter, lyricist, and entrepreneur, and he is one of the world's highest-paid artists. And with the title of a rapper who sold the most albums, many are curious as to how much his net worth is and what he went through before he got all of his fortune.
This article would help you take a closer look at Eminem's net worth and his background.
Early Life Before Music
Eminem, also known as Marshall Bruce Mathers III, was born on October 17, 1972, in Saint Joseph, Missouri, USA. His parents' names are Marshall Bruce Mathers II and Deborah Nelson, and they were both members of the band called 'Daddy Warbucks'. 
They are also somewhat in the bloodline of Germans, Scots, and Swiss. After the divorce of his parents, Marshall Bruce spent a huge portion of his childhood being blown back and forth from Kansas City to Detroit. Hence, he switched schools every 2-3 months and had difficulty graduating, making friends, and staying away from trouble. He studied at Lincoln High School in Michigan from 1986 to 1989, but he did not graduate.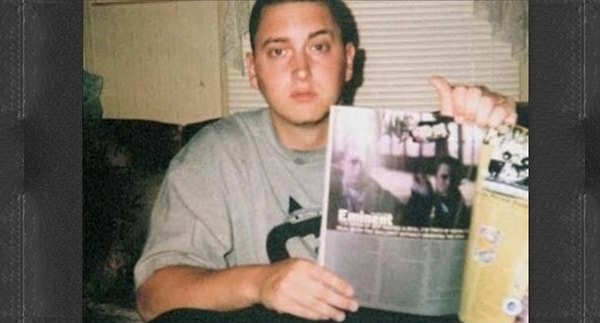 Ever since, Eminem has been a devotee of rap and music, so much so that he started to rap at the age of 4 years old. Rhyming the words at the ends of sentences, discovering new tunes, and battling with schoolmates were what brought happiness to what was otherwise Eminem's miserable life. 
He was a loner, but he found comfort in writing lyrics and reading comics. Yet he hates social studies and maths, leading to bad marks and even coming to the point that he was dropped out of school when he was 17 for having really low grades and failing for three consecutive years of being a ninth grader. 
He knew how hard life could be. That is why, at his young age, Eminem also took a job to help his mother with their daily expenses. But he later revealed that his efforts were all unappreciated, despite his efforts and even after collecting almost all of his paychecks.
Entering The Music Scene
At the early age of 14, he started focusing on his rapping career and eventually made a name for himself as 'M& M', or Eminem. But things became rough for him, for he was rejected by his fellow rappers because of his racial status. Although equipped with rage, it did not stop him from pursuing his dream.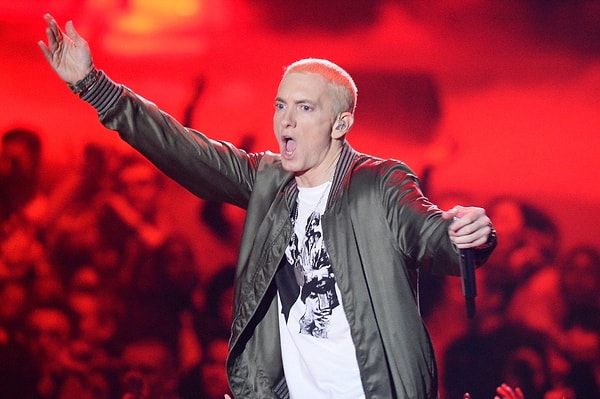 He then joined the rap battles in which he spent most of his time, and later on he released his first album, 'Infinite.' Although it only sold around a thousand copies, it became a first stepping stone for him to become a big shot in the future. After that, he set out on the journey to underground rapping life, which led him to have a collaboration with Dr. Dre's early work; the revised Slim Shady EP, for which he won a Grammy award. 
With the great potential that Eminem possessed in rapping, Dr. Dre invited him to attend the Rap Olympics in Los Angeles in 1997. After an hour of exchanging rhythmical insults against his competitors, he won second place. After that event, he was spotted by a few producers and the rest is history.
Eminem's Accomplishments
In the entirety of his rapping career, Eminem won a total of 15 Grammy awards. He also won the Academy Award for Best Original Songs and also had a nomination for a Golden Globe Award for Best Original Song for his 'Lost Yourself' in his movie titled '8 Miles'. 
This song broke the record for being the longest-running Top 1 hip hop single album. With the countless achievements that he got, he is on par with Bon Jovi, Michael Jackson, and Queens and became the first one to get the Global Icon Awards due to his outstanding talent and popularity. He sold over 100 million albums worldwide and 42 million tracks.
Eminem's Net Worth
According to the latest survey by Forbes Magazine, Eminem currently has a net worth of over $600 million. That automatically makes him one of the richest rappers in the entire world. He has an average yearly salary of $50 million, and it could be easily doubled with his tours and concerts. He also ran many businesses, which helped his fortune grow even larger.
Eminem is living a luxurious life, far from where he was a decade ago. He owns a mansion, and the biggest one is 17,500 square feet in scale. It has a swimming pool, tennis courts, and many luxurious guest rooms. He also has a collection of flashy cars such as an Aston Martin V8 Phantom, a Porsche Carrera GT, a 575 Ferrari, and many more.
He also gives a portion of his wealth to charity and regularly contributes to the Eight Mile Boulevard Association.
Eminem & Snoop Dogg - From The D 2 The LBC [Official Music Video]
Scroll Down for Comments and Reactions