News
'Dumb and Dumber' Starring Jim Carrey and Jeff Daniels Hits Netflix In June- Know The Release Date & More
'Dumb and Dumber' Starring Jim Carrey and Jeff Daniels Hits Netflix In June- Know The Release Date & More
'Dumb and Dumber' is a 1994 American buddy comedy film directed by Peter Farrelly, with Bobby Farrelly and Bennett Yellin co-writing the screenplay. The film is the first in the Dumb and Dumber series. It follows Lloyd and Harry, two dimwitted but well-intentioned best friends, on a cross-country road trip to return a briefcase full of ransom money to Lloyd's sweetheart Mary Swanson - and accidentally become involved in a kidnapping plan along the way.
'Dumb and Dumber' Release Date
This Jim Carrey and Jeff Daniels' comedy film starrer will hit Netflix on June 1st.
'Dumb and Dumber' Trailer
Watch the trailer of the 'Dumb and Dumber'  on YouTube and down here.
'Dumb and Dumber' Storyline
Harry and Lloyd are two wonderful buddies who both happen to be idiots. The two embarked on a cross-country journey from Providence to Aspen, Colorado, in order to return a briefcase stuffed with cash to its rightful owner, a lovely woman called Mary Swanson. The two eventually make it to Aspen after a trip filled with mishaps. However, the two quickly learn Mary and her bag are the least of their concerns.
'Dumb and Dumber' Box-Office Success
'Dumber And Dumber' was a box office surprise, generating more than $240 million against a $17 million budget, and is widely regarded as one of the finest comedies of the 1990s. It also generated a short-lived Hanna-Barbera animated TV series, a 2003 prequel film concerning Lloyd and Harry's high school days, and a 2014 sequel with Jim Carrey and Jeff Daniels reprising their roles.
'Dumb And Dumber' Cast
In 'Dumb And Dumber', Jim Carrey and Jeff Daniels teamed-up as Lloyd Christmas (Carrey) and Harry Dunne (Daniels). 
Along with Ace Ventura: Pet Detective and The Mask, 'Dumb And Dumber' was one of a trio of 1994 films that helped put Jim Carrey on the map. Carrey went on to star in numerous more blockbuster comedies after playing Lloyd Christmas, including The Truman Show and Bruce Almighty, but he also received critical recognition for his tragic performances in Eternal Sunshine Of The Spotless Mind and Man On The Moon.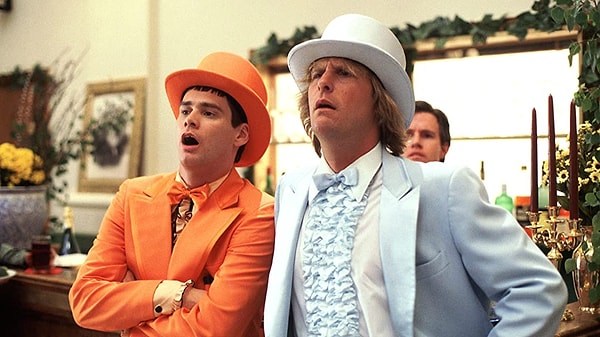 Jeff Daniels,on the other hand, has acted in numerous films since his role as Harry Dunne in the Dumb And Dumber ensemble, including the lovely fantasy comedy Pleasantville and the psychological drama The Hours, as well as Danny Boyle's Steve Jobs biopic and Ridley Scott's sci-fi film The Martian. Daniels has also been praised for his roles in television dramas such as The Newsroom and The Looming Tower.
Lauren Holly, Karen Duffy, Mike Starr, Charles Rocket, and Teri Garr play supporting roles.
Are you looking forward to watching the second season of 'Dumb And Dumber' on Netflix? Let us know your thoughts in the comment section below.
Scroll Down for Comments and Reactions