News
Drake Makes Star Appearance at Miami College Lecture
Drake Makes Star Appearance at Miami College Lecture
Toronto hip hop star Drake made a guest speaker appearance at Florida International University in Miami last week, according to new reports.
The rapper is reported to have spoken to students of the college at Dave Grutman's hospitality experience.
The event took place last Thursday evening where around 400 students of the college happily gathered to hear Drake's lecture.
The Canadian rapper arrived in an all black get up and was sat next to Miami nightlife star Dave Grutman at the speaking.
During his speech, Drizzy reflected on his career and talked about the importance of having confidence.
"I think it's still amazing that at 8:30 at night, you're all still sitting here and trying to learn something and trying to elevate yourselves," Drake started his speech with.
"Exploration as an artist really just boils down to confidence,' the star went on to say, 'I think you have to find the balance between doing what you know works for you and what you know people love you for, but also giving yourself a shock, waking yourself up because it can become very formulaic."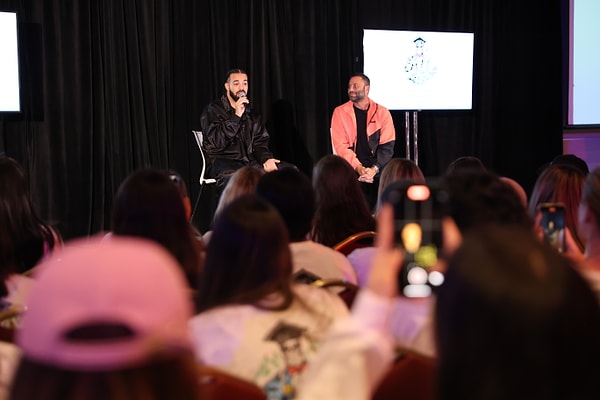 The speaking from Drake came just hours before the 12am release of his latest collaboration album 'Her Loss,' alongside 21 Savage.
Drizzy said he had submitted the final album that very morning, before it would go live online.
Drake also reflected on his struggle to get signed as a rapper when he was looking for a music deal to get his career started with.
"I remember going around New York with my uncle early in my career," he explained, "I sat in front of every label.'
'I sat in front of JAY-Z, Lenny, and I sat in front of Dr. Dre,' he added.
"Throughout my career, I wasn't the 'thing' hip-hop was known for,' Drizzy stated, 'I paved my own lane and excelled in it."
Only two weeks ago, Drake celebrated his 36th birthday in style in the city of Miami at the 'Sexy Fish' nightclub.
'Her Loss' will go up against Taylor Swift's hugely popular album 'Midnights' in the music charts though Drake's albums always do well.
The project is expected to challenge for the number 1 spot and sell up to 400,000 units in the first week.
Drake and Savage released the video for 'Privileged Rappers' off the album on Monday.
Drake & 21 Savage - Privileged Rappers | A COLORS SHOW
Dave Grutman's lectures to students have become synonymous with appearances from stars lately.
The nightclub mogul has coerced the likes of hip hop producer DJ Khaled and ex-musician and fashionista Victoria Beckham to speak at his college night classes during the academic semester.
Scroll Down for Comments and Reactions