Don't Miss The 2006 Comedy Classic 'Little Miss Sunshine' While It's Available On Tons of Streaming Services
News
>
Don't Miss The 2006 Comedy Classic 'Little Miss Sunshine' While It's Available On Tons of Streaming Services
This uplifting adult comedy has popped up in so many places, it's officially too much to ignore! If you happened to miss this one, here is all you need to know about Little Miss Sunshine.
Plot of 'Little Miss Sunshine'
When the youngest member of their family proclaims her desire to compete in the Little Miss Sunshine pageant, a down-on-their-luck family has to overcome their annoyance with each other to get her to the crown.
Cast
Here's the ensemble cast that makes up the family:
Alan Arkin - Edwin (grandpa)

Abigail Breslin - Olive (daughter)

Steve Carell - Frank (sheryl's brother)

Toni Collette - Sheryl (mother)

Paul Dano - Dwayne (son)

Greg Kinnear - Richard (father)
Critics' Praise and Legacy of 'Little Miss Sunshine'
With an amazing cast, a charmingly quirky family dynamic, and no fear of plumbing the depths of tragedy for its ultimately comedic premise, Little Miss Sunshine struck audiences as a profoundly human film in an era of over-the-top comedies. The film won two Oscars, several more awards and festival prizes, and did well at Critics' awards ceremonies as well. Paste Magazine included it in their best of the decade (2000-2009) list.
Rating: 8/10
★★★★★★★★☆☆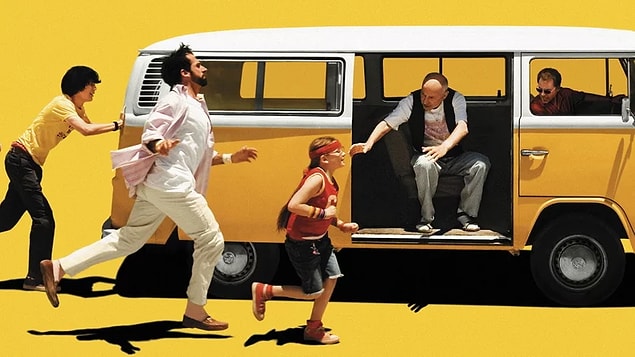 Other Projects From Jonathan Dayton and Valerie Faris
All of the other work from the directors of Little Miss Sunshine have received good (but not as good) reviews as their first film. Here are their three other projects since their debut film.
Ruby Sparks shows an even lighter side of these two directors, as Little Miss Sunshine broached some serious darkness on occasion. A novelist, played by Paul Dano, creates his dream girl (Zoe Kazan, who wrote the screenplay), only for her to come to life in his apartment.
Battle of the Sexes (2017)
Based on the 1973 tennis match between Billie Jean King and Bobby Riggs, the screenplay's editorializing of the facts didn't stop good reviews concerning the lead performances of Emma Stone and Steve Carell. However, Battle of the Sexes was still a box office bomb.
Living With Yourself (2019)
Dayton and Faris directed every episode of this Netflix series starring Paul Rudd and Paul Rudd in dual leading roles. The show received critical acclaim, but it has not been renewed for a second season even three years later.
Little Miss Sunshine is available on Prime Video, Hulu, Paramount+, and Epix, so most of you probably have access to at least one of these. Happy watching!