News
Disney Plus' 'Firebuds' is Everything your Kids Need this Fall
Disney Plus' 'Firebuds' is Everything your Kids Need this Fall
After unveiling a series of new shows for Disney+ Day, the streamer is back with more content for the young souls to live for this fall. 
Firebuds comes in twelve episodes from the Sofia the First and Elena of Avalor creator Craig Gerber, packed with exciting activities for children to engage in.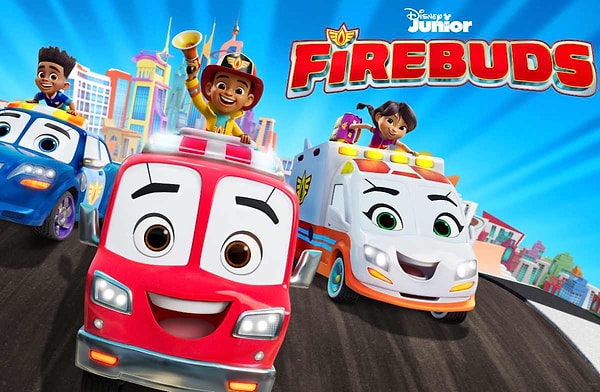 About 'Firebuds' Season One
The first season of the animated comedy-adventure show is set in a world of fantasy with talking vehicles, living, working, and playing with their human owners. 
It also showcases Bo and his fire engine sidekick, responding to and helping their society in all sorts of problems they face. Each episode focuses on two different stories, visualizing the impact of togetherness and kindness. 
Disney Television Animation News recently unveiled Firebuds' 1-minute, 13-second trailer via its primary YouTube Channel. 
It kicks off with the Firebuds trio and the unique talking cars off to life-saving missions within their community. From putting off fire outbreaks and saving their car friends from a deflated car tyre- safety comes first, second, and third for this incredible team of youngsters.
The Series' Creators and Cast
Gerber created Firebuds along with Alyssa Stratton, Jeremy Shipp, Norma Sepulveda, Leanna Dindal, and Krystal Banzon as the writing team. Other showrunners include Julius Aguimatang, Kris Wimberly (directors), Craig Simpson (producer), Robb Pratt (supervising director), Francis Giglio (art director), and Matt Hoverman (story editor). 
Firebuds is a Disney Television Animation project, with Beau Black and Frederik Wiedman as the songwriter and composer, respectively. 
The above team incorporated various voices into the success of Firebuds, including Caleb Paddock (Pitson), JeCobi Swain (Jayden), Lily Sanfelippo (Axl), Vivian Vencer (Violet), Yvette N. Brwon (Chief Faye Fireson), and Lou Diamond Phillips (Chief Bill Bayani). 
Other characters include Mellisa Rauch (Beth Bayani), Padma Lakshmi (Chef Pavani), Nat Faxon (Throttle), Aimee Carrero (Marina), Rich Sommer (Mr. Wexell), and Ali Stroker (Gliderbella). Atticus Shaffer and LaChanze will appear on the series as Wayne Riley and Jenna, respectively.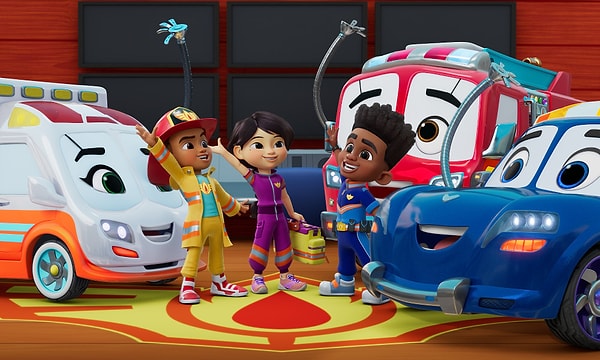 'Firebuds' Release Date
The first installment of Firebuds lands on September 21st on Disney platforms (Disney Jr, Disney+, and Disney Channel). Disney has also revealed a spin-off for the show, Disney Junior Music: Firebuds launching September 16th, followed by storybooks coming later in 2023. 
Disney Junior described the Firebuds as Fast, focused, and fearless, along with a 30-seconds trailer concerning the team, on its primary Twitter page. 
On the other side, Craig Gerber accompanied José Zelaya, a character designer on the Disney Bundle Pavilion Stage, to show everyone how to draw Flash the kid firetruck from Firebuds. Mark your calendar!
Scroll Down for Comments and Reactions