News
'Dead to Me' Season 3: Trailer, Release Date, Cast & More Details
'Dead to Me' Season 3: Trailer, Release Date, Cast & More Details
Netflix is spearheading the streaming of women-centered friendship series, from the drama show Firefly Lane starring Katherine Heigl and Sarah Chalke to the black comedy Dead to Me starring Christina Applegate and Linda Cardellini. 
The Emmy Award-winning series about love, friendship and mutual killings returns to Netflix for the third and final season.
'Dead to Me' Performance
Debuting in 2019, Dead to Me sees two women Jen, a widow and carefree Judy bonding at therapy over their mutual loss of loved ones. As their unlikely friendship grows, Jen learns that there's more to Judy than the face value leading to twists and turns that affect their relationship. 
The series has been an enormous success, accumulating over 30 million views in its first debut month and taking home a Primetime Emmy for Outstanding Lead Actress in a Comedy Series for Applegate. 
It also ranks highly on the critic and audience scale, with 90% on Rotten Tomatoes, 8/10 on IMDb and 86% on Google Review.
'Dead to Me' Season 3
Netflix renewed the series for a third and final season in July 2020. However, the season's shooting was pushed forward due to Christina Applegate's health issue. Filming commenced on May 7 2021, until April 25 2022.
Applegate, who was diagnosed with Multiple Sclerosis, told New York Times that Dead to Me's production was halted for almost five months when she began her treatment. She recalled feeling off-balance during the shooting before getting an official diagnosis while on the show's set.
The 49-year-old actress soldiered through when filming resumed, even being wheeled to the set and having her legs occasionally held off-camera. The crew also made changes to the script to work around her condition. 
Applegate has since revealed on Twitter the challenges of living with MS, including sharing photos of the walking aides she uses and chronicling the disease's resulting insomnia.
"Being technically disabled is what it is. I didn't know what MS was before I had it. My life is changed forever," she tweeted.
'Dead to Me' Season 3 Storyline
No one's future is certain in the show's final season as Judy (Linda Cardellini) and Jen (Christina Applegate) risk their lives once more for the sake of their friendship. But will they get away with their lives?
As they grapple yet another hit and run, the duo gets shocking news that the FBI is pursuing Steve's murder case. Jen has to deal with the repercussions of murder while Judy faces her own life-threatening crisis as an unexpected force from her past resurfaces. Detective Perez (Diana Maria Riva) strives to conceal her dark secrets as Ben (James Marsden) deals with his dreadful monsters. 
Expect unforeseen turns and glaring twists this season.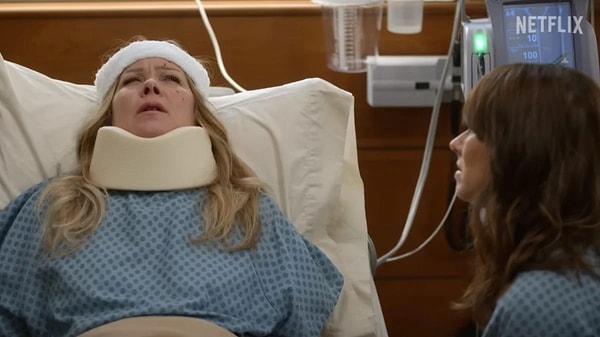 'Dead to Me' Season 3 Trailer
Netflix dropped the full trailer for Dead to Me season 3 on Wednesday, November 2. The preview reveals the law investigating further the murder of Steve after his body is found. 
Jen and Judy made it out alive after their grisly accident at the end of the second season. However, Jen is more affected as she winds up in the hospital with a neck brace, but the ordeal doesn't kill her spirit.
'Dead to Me' Season 3 Cast
This new season introduces new stars to its cast, with Garret Dillahunt coming on board as Agent Glenn Morris, the MVP of the FBI. Turhan Troy Caylak and Staci Lynn Fletcher also join as Dr Kaan Abaci and Nurse Maureen, respectively. Other new names include Justina Lynn Johnson, Lana Danielyan, Goran Ivanovski and Ren Burttet. 
The series favorite stars that reprise their roles in season 3 include Christina Applegate (Anchorman 1 & 2 and Vacation) as Jen Harding, Linda Cardellini (Daddy's Home 1 & 2 and Legally Blonde) as Judy Hale, Luke Roesler (IT Chapter Two) as Henry Harding and Sam McCarthy (All These Small Moments) as Charlie Harding. 
There's also James Marsden (27 Dresses and The Notebook) as Steve/Ben Wood, Max Jenkins (Plus One) as Christopher Doyle, Diana Maria Riva (Chasing Papi and Our Family Wedding) as Detective Ana Perez and Brandon Scott (Bad Match) as Nick Prager.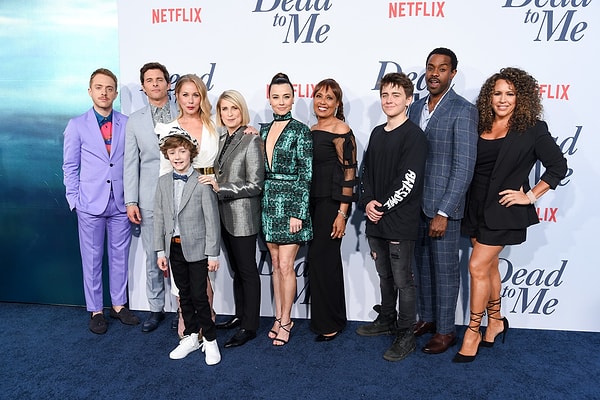 When Does 'Dead to Me' Season 3 Premiere?
The third and last season of Dead to Me is scheduled to head to Netflix on Thursday, November 17 2022. Like the previous seasons, the third is expected to have ten episodes, each running for approximately 30 minutes.
Scroll Down for Comments and Reactions