Cate Le Bon's Eccentric Pop Mastery - New Album Review
News
>
Cate Le Bon's Eccentric Pop Mastery - New Album Review
The genre of art-pop continues to impress into the 2020s, developing into one of the most surprising, colorful, and all-encompassing songwriting approaches of the modern era. When a master songwriter values both individuality and the art of writing a good melody, the results have limitless potential, as evident in the output of Moses Sumney and St. Vincent. Welsh singer Cate Le Bon has slowly grown into the adventurous pop songsmith she has aspired to be since her first album, with her marvelous new album Pompeii marking her most distinctive recording to date.
A Bit Too Experimental, Until Now
The road to recognition for Cate Le Bon has been a slow climb through unappreciated inquiries into her musical personality. The threads of expertise shown in her recent albums always existed in her early psychedelic folk-inspired arrangements. However, it took her stripping things down to the essentials on 2019's Reward to stand out as an album-oriented artist. Formerly an indie one-hit-wonder with the breezy guitar-driven track "Are You With Me Now?," Reward's piano-pop twist and Pompeii's 80s-inspired reverb redefined her sound as she perfected her songwriting formula.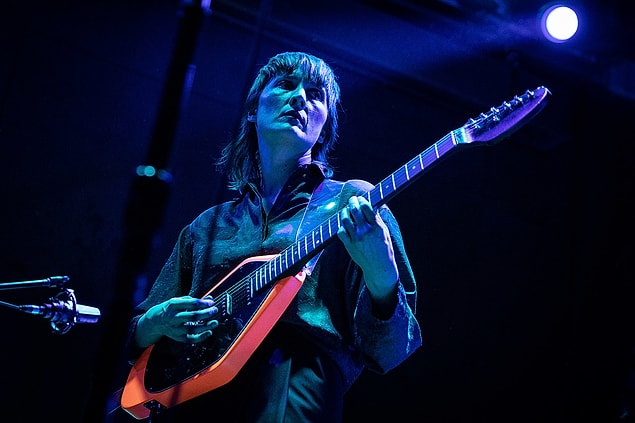 The Verdict on 'Pompeii'
The re-expansion of Cate Le Bon's sound luckily focuses on honing her ever-increasing songwriting abilities. The darkness produced by writing in isolation could no doubt hide the glistening moments from some ears, but most listeners who absorb Pompeii closely and carefully will undeniably get sucked in by her unique sound. Since she avoids the temptation of overtly showing off her pop hooks, no song works suitably as a single, but each is simultaneously catchy and striking. Most significantly, the record constantly resonates with a cathartic sentiment that, despite its density, makes emotional investment easy for any close listener.
Rating: 9/10
★★★★★★★★★☆
Tracklist