News
Bruce Willis' Looper (2012) is Now on Hulu
Bruce Willis' Looper (2012) is Now on Hulu
As fans and fellow stars continue to pour in their tributes towards Bruce Willis' screen time career, we would like to take this moment to remind you of one of the icon's best films, a sci-fi action-thriller Looper which premiered almost a decade ago. 
Looper was released in the U.S. on September 28 2012 and quickly became a hit, grossing $ 176 million globally on a budget of $30 million.
What Looper is About
The movie is written and directed by Rian Johnson and produced by James D. Stern and Ram Bergman. Starring Willis, Emily Blunt and Joseph Gordon-Levitt in the frontline, Looper is set in the future where time travel exists but is only available to those who can afford to pay for it in the black market. 
Those in charge can decide to kill off someone by sending them into the past, where an assassin known as Looper awaits to finish the job. Joe is one hired hitman who never misses. One day, however, his bosses decide to get rid of the loop and send Joe's older self back to the past to encounter his fate.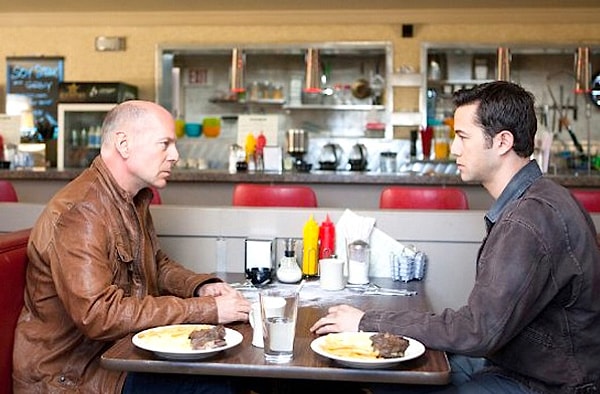 Is Looper Worth Watching?
Looper was well received, with critical acclaim and a 93% Rotten Tomato rating. Douglas Davidson from Elements of Madness recently gave the movie a 4.5/5 rating on February 17 2022, citing, 'Another feather in the cap of a writer/director who knows how to play with expectations, how to set up details without heavy obviousness, and to lead with emotion to invest his audience.' It's absolutely one to watch.
Cast Members
Gordon-Levitt stars as the protagonist, Joe, with Willis playing older Joe. Emily Blunt portrays Sara, Paul Dano as Seth, Jeff Daniels as Abe, Qing Xu as older Joe's wife, Noah Segan as Kid Blue, Piper Perabo as Suzie, Tracie Thoms as Beatrix, Frank Brennan as old Seth, James Landry Hébert, Kenneth Brown Jr. and Cody Wood as Looper, Nick Gomez as Dale, Garret Dillahunt as Jesse, Marcus Hester as Zach and Adam Boyer as Tye.
Scroll Down for Comments and Reactions