News
Beyblade: Burst Surge (Season 1): Coming On Netflix This April 2022
Beyblade: Burst Surge (Season 1): Coming On Netflix This April 2022
'Beyblade: Burst Surge,' also known as Beyblade Burst Sparking or Beyblade Burst Superking in Japan, is a 2020 original online animation series that is the fifth season of the Beyblade Burst franchise. On April 3, 2020, OLM began streaming the series in Japan on the CoroCoro and Takara Tomy YouTube sites.
The season will be broadcast on Tokyo MX on October 5, 2020, according to an announcement made on September 15, 2020. On February 20, 2021, an English dub of the anime aired on Disney XD in the United States. 'Sparking Revolution' is the opening theme, while an instrumental version of 'Sparking Revolution' is the concluding theme. The English opening song is Konrad OldMoney 'We Got the Spin,' while the ending tune is an instrumental of 'We Got the Spin.'
'Beyblade: Burst Surge' Release Date
The first Beyblade Burst anime premiered in Japan in April 2016. The Beyblade Burst anime began airing on Canada's Teletoon channel in September 2016, and then premiered on Disney XD for two weeks in December 2016. Daisuki began streaming the series with English subtitles later in December 2016
Netflix US will be premiering the 'Beyblade: Burst Surge,' on its streaming platform on April 1st 2022.
'Beyblade: Burst Surge' Trailer
There were several trailers to choose from on YouTube for 'Beyblade: Burst Surge'. You can catch them here as well.
'Beyblade: Burst Surge' Storyline
Elementary-school student Valt Aoi is crazy about Beyblade and is best friends with Shu Kurenai, who is a prodigy at the game and has been named to the national Beyblade tournament final four.
Inspired by his friend's accomplishment, Valt makes it his goal to reach the tournament himself. The first step on the road to the big leagues is to win his district tournament, which includes some tough opponents. As he makes his way up the ladder, Valt reaches new heights and extends his circle of friends, eventually -- unknowingly -- dreaming of becoming the best Blader in the world.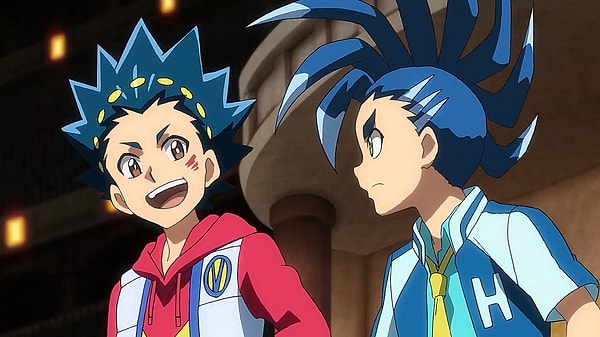 'Beyblade: Burst Surge' Voice Cast
Here's the cast detail of the series and their voice characters:
Jade Dennis. Hikaru Hizashi. Voice.
Ryan Bartley. Hyuga Hizashi. Voice.
Kimlinh Tran. Valt Aoi. Voice.
Laura Megan Stahl. Aiger Akabane. Voice.
Erika Harlacher. Dante Koryu. Voice.
Alan Lee. Shu Kurenai. Voice.
Derek Stephen Prince. Ranjiro Kiyama. Voice.
Mark Whitten. Silas Karlisle. Voice.
Are you looking forward to watching 'Beyblade: Burst Surge' on April 1st on Netflix? Let us know in the comment section below.
Scroll Down for Comments and Reactions