News
'Autumn Girl' On Netflix: Film : Release Date, Trailer, Cast, Synopsis, And Everything We Know So Far
'Autumn Girl' On Netflix: Film : Release Date, Trailer, Cast, Synopsis, And Everything We Know So Far
'Autumn Girl' is a 2021 Polish social drama set in the 1960s starring Maria Dębska and Leszek Lichota, Krzysztof Zalewski. The film is helmed by Katarzyna Klimkiewicz under Netflix Film.
When Will It Be Available For Streaming?
The Polish drama film 'Autumn Girl' is scheduled on Netflix on March 8th 2022 as from the 'What's Coming To Netflix' announcement of the giant streaming platform's 'Movies and Series for Release' alongside with the series An Astrological Guide for Broken Hearts (Season 2), Last One Standing (Season 1), Chip and Potato (Season 3), and Taylor Tomlinson: Look At You (2022).
Is There A Trailer For This Movie?
A 1.30 minute trailer of the film is now available for preview. You can sneak preview of the film here as well.
Autumn Girl | Official Trailer | Netflix
What Is The Synopsis Of 'Autumn Girl'?
At the turn of the decade, 1962 and 1963. The star of Kalina Jedrusik shines brightly.
The actress is Stanislaw Dygat's happy wife, and she also has a hot romance with a young singer, which her husband fully supports. Her blatant enthusiasm in life, on the other hand, offends and outrages many others.
The artist learns after her performance at Barbórka that the crucifix, which was shown on a plunging neckline, had outraged the people's authority. He is prohibited from appearing on television, which provides an opportunity for a high-ranking television official to exact revenge for his unrequited love.
In this case, how will he react? Will she be able to maintain her independence?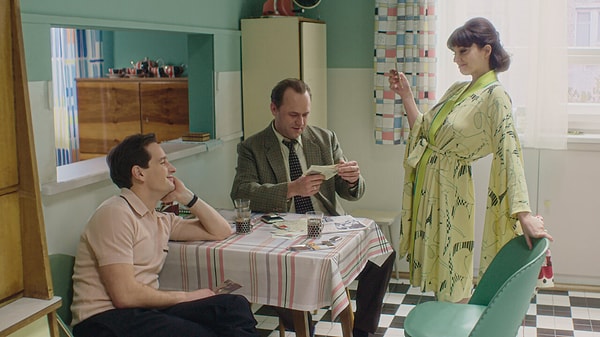 Who Is In The Cast?
'Autumn Girl' features Maria Dębska as Kalina Jędrusik, and Leszek Lichota as Stanisław Dygat. 
Other cast members are Krzysztof Zalewski-Brejdygant as Lucek, Bartłomiej Kotschedoff as Ryszard Molski, Katarzyna Obidzińska as Xymena Zaniewska, Borys Szyc as Kazimierz Kutz, Pawel Tomaszewski as Tadeusz Konwicki, Katia Paliwoda as Barbara Krafftówna, Rafał Rutkowski as Jeremi Przybora, Dariusz Basiński as Jerzy Wasowski, Piotr Kaźmierczak as Mikosz, Iwo Rajski as Krzyś, Paulina Walendziak, as Maja Bzowska, and Ksawery Szlenkier as Adam.
Are you excited for the return of 'Autumn Girl' on Netflix on March 8th? Let us know your thoughts in the comment section below.
Scroll Down for Comments and Reactions