News
'Arpo: The Robot for All Kids' Season 1: Release Date And Everything We Know So Far
'Arpo: The Robot for All Kids' Season 1: Release Date And Everything We Know So Far
Arpo: The Robot for All Kids, sometimes known as Robot Arpo, is a 52-episode CGI cartoon series produced by Toonzip and (occasionally) Centraline Animation in 2012. It's about Arpo the robot babysitting Daniel, a human infant.
'Robot Arpo' Release Date
This series originally aired on MBC TV in South Korea. Later, some channels in South Korea such as Tooniverse, Animax, and Cartoon Network aired this several months later.
In other countries, like Indonesia; RTV aired this in August or September 2014. Robot Arpo is also aired by Multimania in Russia, Ketnet in Belgium, and HTV3 in Vietnam since 13 November 2017.
Robot Arpo is set to premiere on Netflix US on May 1st, 2022.
'Robot Arpo' Trailer
Watch the trailer of Arpo: The Robot for All Kids below:
'Robot Arpo' Synopsys
Arpo, the Combat Robot, is a humanoid robot that was designed to destroy humanity. However, something unexpected happened to him while he slept! When Arpo wakes up, he discovers himself in the company of an unusual household.
Arpo is recreated by a mother who is a walking encyclopedia. She takes away his weapon, reduces his power to that of a domestic appliance, and then implants an emotion chip! Arpo, who was formerly a cold-blooded killer, has been transformed into a fuzzy robot that is continually harassed by a set of twin sisters. He is looking after the Dilovely family's kid Daniel.
Arpo chooses to flee his suffering after years of humiliation. A housekeeping robot who adores Arpo, on the other hand, always gets in the way! Is Arpo going to be able to find his way out?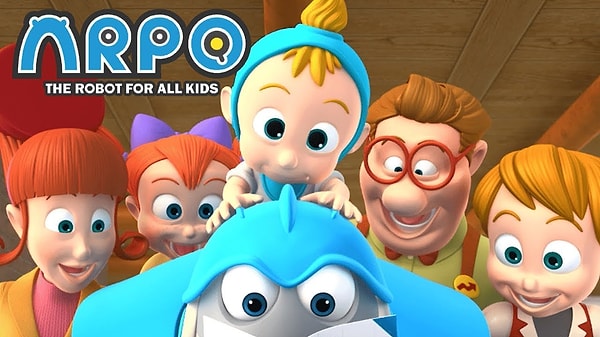 'Arpo' Production Details
Robot Arpo was first planned in 2006, with Trunk Animation (later Toonzip) creating some posters and promos in 2007. Between 2009 and 2010, unaired pilots such as Battle of Bathtub and Arpo Space Travel were published. These principles from before 2011 are now exclusively used for Hancom Typing Training 2010.
This concept is about Arpo and the unusual-looking family, which was thought odd at the time, but was replaced in 2011 by a new concept.
Are you looking forward to the coming of 'Arpo: The Robot for All Kids/Robot Arpo' on Netflix on May 1st? Let us know your thoughts in the comment below.
Scroll Down for Comments and Reactions