News
'Anchorman: The Legend of Ron Burgandy' (2004) – Arrives On Netflix In June 2022
'Anchorman: The Legend of Ron Burgandy' (2004) – Arrives On Netflix In June 2022
Will Ferrell stars as a charismatic newsman in the 1970s but his reign as the top dog looks to be coming to the end after a new hire.
'Anchorman: The Legend of Ron Burgundy' is a 2004 American satire comedy film directed by Adam McKay, produced by Judd Apatow, starring Will Ferrell and Christina Applegate, and written by McKay and Ferrell. The first film in the Anchorman franchise, the film takes a satirical look at 1970s culture, particularly the new Action News format. It depicts Ferrell's title character clashing with his new female counterpart at a San Diego television station.
'Anchorman: The Legend of Ron Burgandy' Release Date
'Anchorman: The Legend of Ron Burgundy' opens the month of June with a bang as it arrives Netflix on June 1st, 2022 alongside other films like the Polish drama movie Illusion (2022) ,  The Amazing Spider-Man (2012), Jean-Claude Van Damme starrer We Die Young (2019), and We Are Marshall (2006).
'Anchorman: The Legend of Ron Burgandy' Trailer
Watch a trailer of 'Anchorman: The Legend of Ron Burgundy' here.
'Anchorman: The Legend of Ron Burgandy' Storyline
Journalism was a respected profession in 1970s San Diego, and people were interested in what they watched on television.
Ron Burgundy is the city's most popular anchorman. He has enjoyed his time at the top for the past five years. His news staff is just as talented as he is. Champ Kind, a professional jock and former professional baseball player, handles sports, Brick Tamland, who is a few channels short of a cable subscription, handles the weather, and ladies' man Brian Fantana, whose collection of fine fragrances would be in the Guinness Book Of Records, handles on-field reporting.
But now everything is going to change. The TV channel where Burgundy works, Channel 4, has embraced diversity by hiring Veronica Corningstone, a stunning new female anchor. Veronica slowly advances to the top as Ron Burgundy and the rest of the Channel 4 news staff enjoy fighting with opponents, partying, and flirting with the girls. Ron Burgundy is enraged at Veronica's success. Because of Veronica's interference, Ron is demoted and then fired from Channel 6.
Now that he's been stripped of everything, Ron must figure out a means to go back to the top, which requires a narrative about a rare Chinese panda giving birth on American territory. Will Ron be the one to break the story across the country?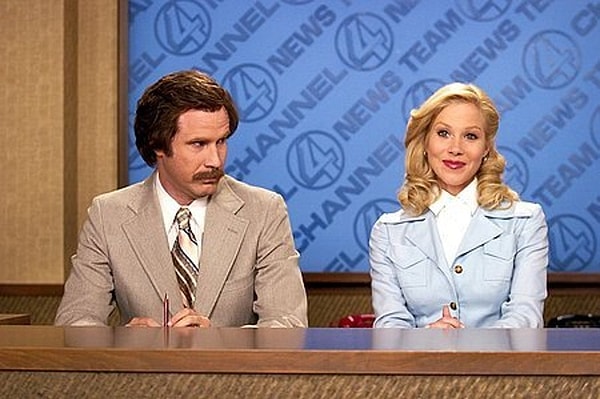 'Anchorman: The Legend of Ron Burgandy' Cast
The film stars Will Ferrell, Christina Applegate, Paul Rudd, Steve Carell, David Koechner, Fred Willard, Kathryn Hahn, Chris Parnell, Vince Vaughn, Ben Stiller, Tim Robbins, Luke Wilson, Danny Trejo, Jack Black, and Seth Rogen.
'Anchorman: The Legend of Ron Burgandy' Production and Box-Office Details
The film made $28.4 million in its opening weekend, and $90.6 million worldwide in its total theatrical run. It was met with generally positive reviews from critics upon release and is now widely regarded as one of the best comedy films of the 2000s. It was ranked at number 100 on Bravo's 100 funniest movies, number 6 on Time Out's top 100 comedy films of all time and 113 on Empire's 500 Greatest Movies of All Time. A companion film assembled from outtakes and abandoned subplots, titled Wake Up, Ron Burgundy: The Lost Movie, was released straight-to-DVD in late 2004. A sequel, Anchorman 2: The Legend Continues, was released on December 18, 2013, with Paramount Pictures replacing DreamWorks Pictures as the distributor.
Are you looking forward to the 'Anchorman: The Legend of Ron Burgundy' on Netflix? Please share your opinions in the comment section below.
Scroll Down for Comments and Reactions