News
Amazon Prime Video Presents The Special Edition 'The Grand Tour: A Scandi Flick'
Amazon Prime Video Presents The Special Edition 'The Grand Tour: A Scandi Flick'
We've been patient enough for the fifth instalment of The Grand Tour after season four was completed in 2017. 
The unfortunate delay was caused by the outbreak of the COVID-19 pandemic, followed by the strict travel restriction by different nations.
What is 'The Grand Tour'?
The Grand Tour is an adventure, following three men as they travel through the freezing regions of the world. The daring boys on the fun-filled trip to the chilly Arctic Circle are Jeremy Clarkson, James May, and Richard Hammond.
The Grand Tour has garnered impressive scores over the previous seasons, keeping the crew motivated to travel further. The series has a 90% average audience score on Rotten Tomatoes and an 8.7/10-star rating on IMDb.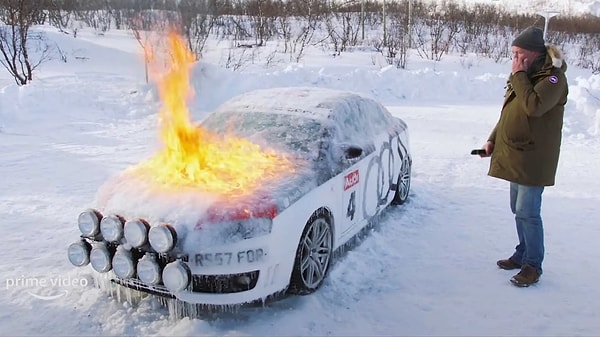 Synopsis
The fourth season, which aired on December 13th, 2019, followed Hammond, May, and Clarkson on a massive treasure hunt. After several breathtaking tours through the watery scenes, the determined trio finds itself in Madagascar and the Reunion islands for its last lap. 
With their three super-built sports cars, they raced on the globe's most costly tarmac artwork- a ring road created in the sea. The triad then sailed through the ocean to Madagascar to encounter the world's toughest roads with their massive cars. To keep the fire burning, The Grand Tour season four ended with a hot climax that has kept fans yearning for more. 
The long wait is over as the special edition is here with a new subtitle, A Scandi Flick and full of new destinations and challenges, but with the same crew- Hammond, May, and Clarkson. The three seem to have upgraded their machines to Audi RS4, Subaru WRX STI, and Mitsubishi Evo. 
The trailer from Prime Video's YouTube Channel kicks off with the men on a football field built on top of icy mountains, followed by a glimpse of an arctic animal and racing cars- clearly, this is a hot one! From the fun pranks, roasting, challenges, races, and extreme cold to impressive cars- The Grand Tour: A Scandi Flick is worth the wait.
The Show Creators and Release Date
The Grand Tour was created by Hammond, May, and Clarkson, who also wrote the show, alongside Andy William (co-creator) and Richard Porter (co-writer). Gavin Whitehead, Kit L-Robinson, Brain Klein, and Phil Churchward are the series' directors, along with Ronan Browne, Richard Evans, Chris Hale, and Greg Vince as the producers. 
The series is a Grand Tour Productions, Expectation Entertainment, and W. Chump & Sons co-project, with Amazon Prime Video as the global distributor. 
The Grand Tour: A Scandi Flick debuts via Prime Video on Friday, September 16th. The series' verified Twitter account shared the premiere news, accompanied by a 2-minute, 11-second trailer for more descriptions.
Scroll Down for Comments and Reactions