News
6IX 9INE Net Worth: How Rich is The Screamo Rapper
6IX 9INE Net Worth: How Rich is The Screamo Rapper
When the 21st century seems to be designed as stylish and aesthetic, why don't we talk about something fresh and iconic? A rainbow in human flesh filled with tattoos and controversies, formerly known as Tekashi69, is a rising American rapper we all now know as 6IX9INE. Many people considered screaming to be noise rather than music, but this rapper embraced it and made it his signature. Turning his anger into a song, he was considered the hardcore scream-rapper of the new generation. In detail, let this article drive you to the pot of gold of this rising star, along with some background information on how this controversial public persona made an impact in the competitive world of rap.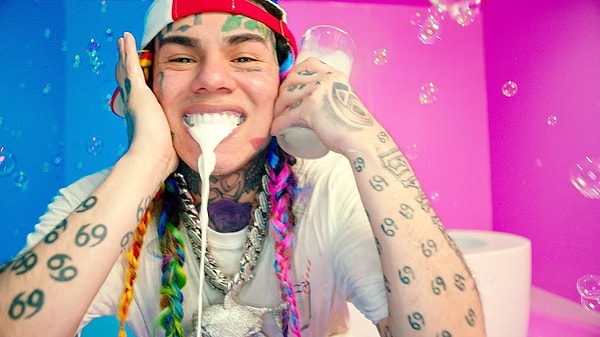 Behind the Colorful Facade
A star was born on May the 8th, 1996 in Bushwick, Brooklyn, New York City. Daniel Hernandez, the son of a factory worker and a house cleaner, was shaped in a household of opportunity and promises of a great future. However, with these promises come struggles and miseries, and he has witnessed all of these suffered by his mother. In 1988, his mother shifted to the United States for better opportunities and worked there as a house cleaner and a factory worker. Young Daniel grew up fond of baseball and soccer, but when an opportunity struck and he was offered to be a part of the Major League Soccer team, his mother declined, for the reason that he didn't trust strangers to take care of his son.
In his early years, young Daniel developed a great interest in singing. He was raised in the church together with his older brother, Oscar Osiris Hernandez. Throughout his youth, he would sing during mass and be selected to read bible passages for the church. He attended Public School 59, Juan Morel Campos Secondary, and Legacy High School during his elementary years, but dropped out in 10th grade and never returned.
He never met his father, only his mother to support both him and his brother. Life is tough, and for a single mother, it makes it tougher. His mother struggled financially so much after his stepfather was brutally murdered inside their home that she could no longer fulfill the promise of a good life for his sons. There were times when both of the boys would go to bed without anything on their stomachs, share used clothes, and sleep in the same bed. Adding to his childhood struggles, Daniel was traumatized by the death of his stepfather, leaving him unable to eat or even take a shower, and was diagnosed with depression and post-traumatic stress disorder (PTSD).
Daniel's bad habits started to develop in the 8th grade, causing him to be expelled from school. Rather than continuing to pursue his education, he found a way to help his mother and started working as a delivery boy and a busboy. Eventually, exposed to illegal activities, they tried selling drugs for greater pay.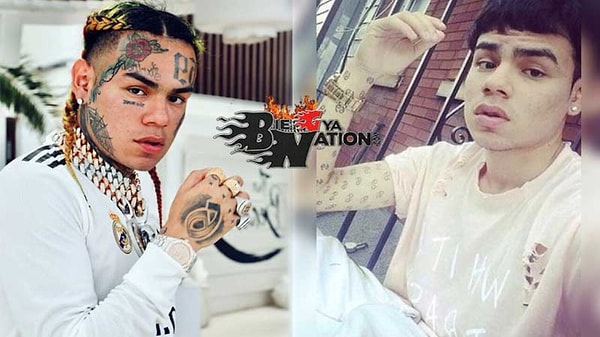 The Rise of 6ix9ine
In the year 2022, Daniel decided to enter the rap community after meeting the CEO of the New York record label, Hikari-Ultra. What piqued the interest of the producer was Daniel's appearance, which the producer labeled as the 'rapper image. Upon knowing that Daniel was not a rapper, he suggested that he try to become one, which sparked the beginning of Daniel's journey in the music industry.
His first rap songs were released in 2014, starting with '69', followed by 'Pimpin', '4769', and 'Who The Fuck is You' in the same year. Within the span of three years, the star in the making released multiple tracks and videos, including 'Scumlife,' 'Shinigami,' 'Yokai,' and 'Hellsing. Screaming and aggressively throwing his messages to the world became one of his rant routes, which eventually became a thing he was known for. Despite being an internet meme for his appearance, his unique aggressive rapping style caught the attention of many, putting him in the spot where he belongs.
His popularity skyrocketed after he released his debut single 'Gummo', taking the 12th spot on the US Billboard Hot 100 in 2017. His debut mixtape, 'Day69', followed in 2018, was spotted as the Billboard 200's number 4 album. One song from the album called 'Billy' also reached the Billboard Hot 100's 50th spot.
In 2018, his song 'Fefe', featuring Nicki Minaj and Mudra Beatz, entered at spot number 4 in the Billboard Hot 100, making the song his very first top 5 song. In the same year, he dropped his 'Gotti' track and eventually added it as a deluxe song. The song then debuted as the spot 99 stealer on the Billboard Hot 100. His other songs were collaborations with other artists like 50 Cent, Akon, Young Thug, and many more.
Amid his debut in the music industry, 6ix9ine faced different illegalities. He was arrested in 2015 for using a child in a sexual performance. In 2018, he was charged with issues related to racketeering, weapon possession, and issues involving the Nine Trey Gangsters. In 2019, he was sentenced to 13 months in prison but was released in 2020. He spent multiple times behind bars, yet no bars could restrain a dynamic star. As a result, upon his return, he returned to music and broke YouTube records, as well as taking the number one spot on Billboard with his single 'Trollz,' featuring Nicki Minaj.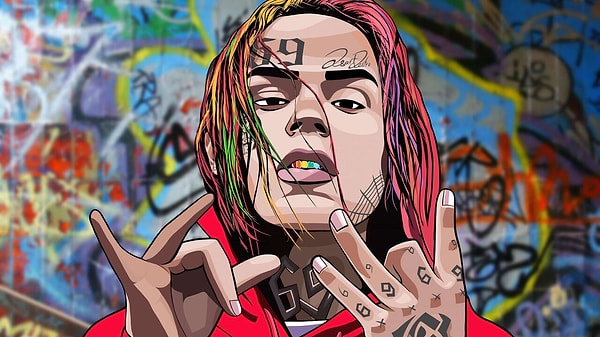 6ix9ine's Net Worth
Truthfully, you can see no rainbow without rain. The majority of 6ix9ine's earnings depend on the release of his rap songs. Also, by signing to different labels with some well-known producers, he was able to make more money and enjoy the benefits of his hard work. With all the ups and downs faced by the young star, multiple surveys reported that the hard-core scream rapper's net worth was found to be $10 million as of October 20, 2022.
From a traumatized kid to a willing helping hand to his mother, 6ix 9ine is now earning more money than he dreamed of in his childhood. His rainbow facade topped with shades of black was criticized and became a public laughing stock. Nonetheless, these colors were chosen to demonstrate to the public what 6ix 9ine is made of: a self-made star.
6IX9INE - GINÉ (Official Music Video)
Scroll Down for Comments and Reactions