News
30 Best Tinder, Bumble, and Grindr Pickup Lines To Boost Your Online Dating Game
30 Best Tinder, Bumble, and Grindr Pickup Lines To Boost Your Online Dating Game
With everything that's happening around us, meeting new people can be quite a new challenge. So it's out with the old and in with the new, and that new way of meeting and dating people can now easily be done through various dating apps such as Tinder and Bumble, or maybe even Grindr!
Unfortunately, not all of us have the best strategies when it comes to initiating conversations with people we've never met. So, we just rely on trusty, crusty pick up lines. However, we need to understand that some pickup lines are just better than others. Let us take a look at the best Tinder, Bumble, and Grindr pickup lines that will help you initiate a conversation and maybe even score a date.
1. A three-day weekend is coming up. Are you a) heading for the mountains b) going to the beach c) sleeping till noon d) partying all night?
This is a genuine question to gauge whether you and your match actually match. You'd also be able to ask follow up questions to make your conversation longer.
2. All your pics came through at a 45-degree angle. Guess you're acute-y.
A classic pickup line for the math geeks out there.
3. Are you Australian? Because you meet all of my koala-fications.
It's always great to be related to a cute bear, right?
4. Are your parents bakers? They sure made a cutie pie.
Smooth and sweet, just like a pie.
5. Do you have an Instagram? My mom always told me to follow my dreams.
Maybe listening to your mom isn't a bad thing after all!
6. Do you know what I have in common with the Little Mermaid? We both want to be part of your world.
Be careful, else you might sacrifice your voice just for a man.
7. I bet I know when your birthday is. October 10. Because you're a 10/10.
Well, I wouldn't mind being rated as long as I'm a 10.
8. I think I saw you on Spotify. You were listed as the hottest single?
I definitely am the hottest single.
9. I thought happiness started with an "h," but I guess it actually starts with "u."
Kind of confused with the spelling here, but hey, I guess happiness is spelled differently now.
10. I would absolutely love to swap bodily fluids with you.
Very straight-on.
11. If beauty were time, you'd be eternity.
Beauty is timeless so, thank you for recognizing it.
12. If I could rearrange the alphabet, I'd put U and I together.
We'd change the whole alphabet but if it would mean being closer to each other, then go for it!
13. If you could be anywhere in the world, doing anything you like right now, where would you be and what would you do?
This will help you think of more questions later.
14. If you're as good at cuddling as you're good looking, I'm signing myself up on the waitlist for a date.
Why put yourself on the waitlist if you can be a VIP?
15. My BBQ is broken, could you have a look at it? (What?) Oh, I thought you might be able to help, being smoking hot yourself and all.
BBQ and babes— always a good pair.
16. My mom told me not to talk to strangers online, but I'll make an exception for you.
If you can't talk to people online, then why are you here in the first place?
17. Not much of a bio, you mind if I lightning round you a couple questions?
Game show-like intro? Not bad to keep the energy up.
18. Roses are red, violets are blue, how did I get so lucky to match with you?
Rhyming schemes are good, but they become better when matching with a dude.
19. Send me your favorite GIF so I get to know you better?
Make sure your GIF game is strong.
20. So I've been trying to come up with a good psychology pickup line for you, but I'm aFreud I couldn't come up with any.
Get it? Freud?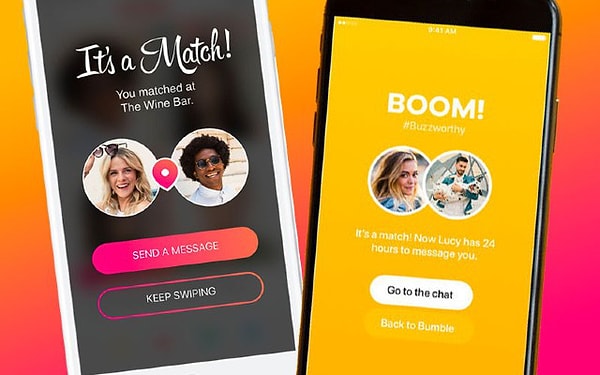 21. So, are you the kind I'd find climbing mountains and acing the diamond slopes, or chilling on the beach with a glass of wine?
If you're not sure whether your match is an adventurous one or a chill one, then this is the best line for you.
22. This is how I'd describe you in three emojis: __. Now you describe yourself in three emojis.
Make sure to not put the eggplant emoji there!
23. Titanic. That's my icebreaker. What's up?
Quite literal, but that works.
24. Top three best things to do on a Saturday?
A great idea if you're already running out of things to do on a first date.
25. Truth or dare?
Easy yet dangerous!
26. We matched! Does that mean you're coming over to my place tonight, or should we meet and establish we aren't serial killers or living with our parents first?
Very straightforward, indeed. It seems that wasting each other's time is out of the question.
27. What do you call a string of people lifting a mozzarella cheese? A cheesy pickup line.
Well… that's not wrong.
28. What's your definition of a good weekend?
You can use their answers here to plan your first date!
29. You sound busy… any chance of adding me to your to-do list?
I mean, I'd put you on my priority list.
30. You're so gorgeous that you made me forget my good pickup line.
Being straightforward is also a good thing if you've already exhausted all your lines.
This list is just the beginning of your dating app journey in finding the love of your life and hopefully, one of these pickup lines will do the trick for you. Do you have any pickup lines that led you to finding your true match?
Scroll Down for Comments and Reactions