News
10 of the Best 'American Horror Story' Characters So Far
10 of the Best 'American Horror Story' Characters So Far
Warning this article contains spoilers for American Horror Story Seasons 1-9. 
'American Horror Story' has gone to great lengths to make sure we remember everyone that strut their stage. They scoured talent agencies, hunting down extraordinary individuals, many with rare conditions, granting them dignity, affection, and grace. They employed some of the world's greatest actors--men and women who could send chills down the spines of the world, and they challenged them to push past their comfort zones.  
The writing was groundbreaking. They brought us into the minds of others, forcing us to confront every facet of the human condition. We felt every second of their vulnerability, their moments of strength, heartache, and betrayal. It was never about what happened; it was about whose path we were on, what drove them, their relationships, and their struggles in life. We were made to love, hate, laugh, and cry, and it was always while standing in someone else's shoes. 
Let's hear it for the covens, the freak shows, the asylum patients, and hotel guests. Let's give them their due recognition, take a moment to recognize their suffering, and let's hope a thousand more like them.
Ma Petite
Season 4 'Freak Show'
Played by the world's smallest woman, Jyoti Amge, Ma Petite was an untouchable who was kept as a pet by a wealthy Maharaja. He didn't want to act as though she had value, so he wouldn't let the freak show owner Elsa Mars purchase him. But he was so enamored Elsa's Dr. Pepper that he was willing give Ma Petite away for a full case. After that, she became Elsa's beloved manicurist and cuddle pillow. In the show, Ma Petite would perform in a bird cage with a tiny violin. 
In real life, Jyoti is from Nagpur, India. She has a flourishing career as an actress, and she's just over 2 feet tall. She's been known to talk about her age and maturity level in the past. She's fully grown--28 years old--at the time of writing this, and her mind is fully developed. But people who don't know any better often treat her like a child.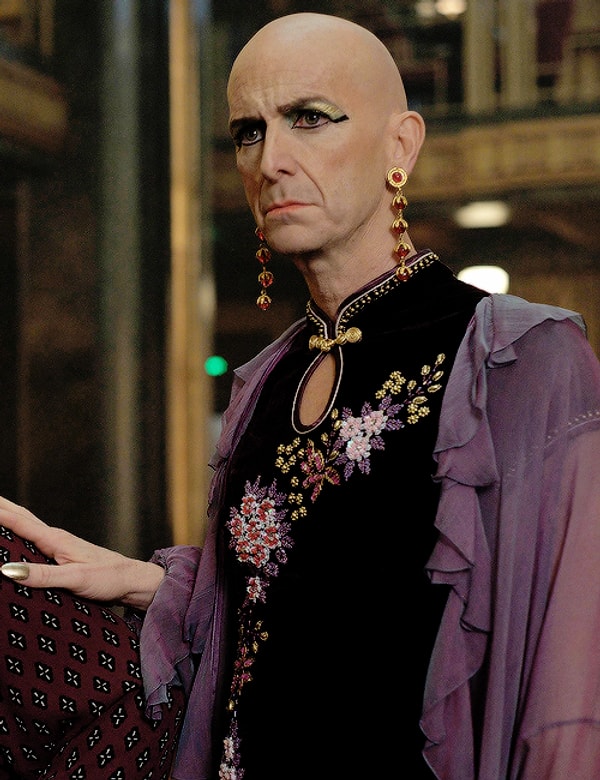 Liz Taylor
Season 5 'Hotel'
Not everyone understands the significance of Denis O'hare's Liz Taylor. She represented a pivotal moment in the history of the trans rights movement, one that would leave the community forever inspired. She was originally Nick Pryor, a closeted trans woman locked in a failing marriage to another female. Nick would often travel for business, and when 'he' did, he'd bring along his favorite outfits to try on in the privacy of his hotel room. One evening, while he was staying in the Cortez Hotel, he was trying on his wife's fur coat, dress, and heels. Elizabeth, the hotel's owner, appeared out of nowhere and sat down on his bed. Nick was ashamed. He tried to reassure Elizabeth that this wasn't what it looked like, but Elizabeth knew. She said that Nick looked like a man, but he smelled like a woman, not his skin, his blood. Nick was moved to tears by this. He said that he would be forever trapped in the body of an ugly man. Elizabeth told him that he lacked commitment, not beauty, and she proceeded to make Nick over, renaming 'her' Liz Taylor. 
Elizabeth tried to get Liz to go to the Roxy, the hotel's bar, saying, 'Goddesses don't speak in whispers, they scream.' But Liz wasn't comfortable with that. Instead, she left the room to get a pail of ice at the end of the hall. When she did, she came across her co-workers, two cis-men who hurled slurs at her, misgendered her, and accused her of having AIDs. Embolded by Elizabeth's encouragement, she said, 'I'm not gay! Look at me, you piece-of-shit-bastards! See me and go to hell!' Elizabeth appeared and slit both of their throats. 
Elizabeth was played by LGBTQ+ icon Lady Gaga, a superstar in the trans subculture. What trans woman hasn't dreamed of have Gaga appear in her room? Who wouldn't faint at the idea of having her apply their makeup? It's the definition of divine grace, and what she did to those men--it was like the collective fantasies of the entire community had come to life.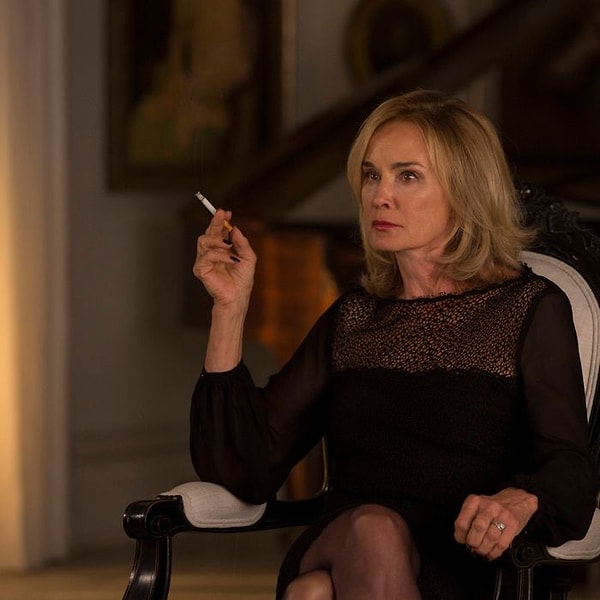 Fiona Goode
Season 3 'Coven'
First, let's take that a moment to stop, admire the face in the picture above, and pay respect to one of the greatest actresses of our time: Jessica Lange. Her prowess, stage presence, and beauty are unrivaled. Armed with nothing more with a cigarette and a wineglass, she could bring the famed silver screen goddesses to their knees. Bette Davis and Marlene Dietrich had nothing on her aside from the era they were filmed in. This woman is a genius, and Fiona Goode was the essence of her onscreen persona. 
The wicked witch of 'Coven' was vulgar and mean, binging on cocaine, liquor, and tobacco. Her quest for immortality will forever be a famed commentary of the human condition. She had this ability to make us love her no matter what she did. She could attempt to sacrifice an infant, drown a teenage girl--commit any crime or atrocity in the book, and we would still be rooting for her. She was just that fabulous.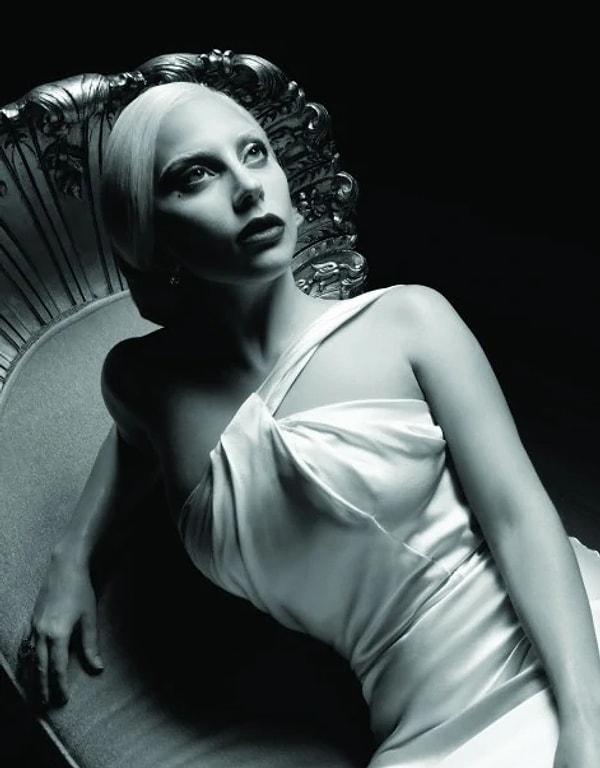 Elizabeth
Season 5 'Hotel'
The world went into mourning when it was announced that Jessica Lange would be leaving 'American Horror Story' after season 4. We had been salivating over her every word for years. She defined the show. It didn't make sense without her, but shortly after that, they announced a new reigning queen, someone fresh, beautiful, and viral: Lady Gaga. 
It wasn't hard to imagine her, dressed in high fashion couture, high heels, and beehives, lighting up the set. But could she act? Gaga had shown off her skills in small roles, but this was different. She was setup to define the new season, and it had to be done right. 
In many ways, she did shine. She played the century-old vampire Elizabeth, a stage actress turned forlorn lover who collected and disposed of a new great love every few decades. She delivered high-fashion and bleached eyebrows, all of the bravado we'd expect, and she did know how to act. Her transformation of Liz Taylor had hearts throbbing across the globe. She could be icy, loving, naive, and scornful. There was also fear and vulnerability. It worked. We did miss Jessica Lange, and we always will, but Gaga definitely had something.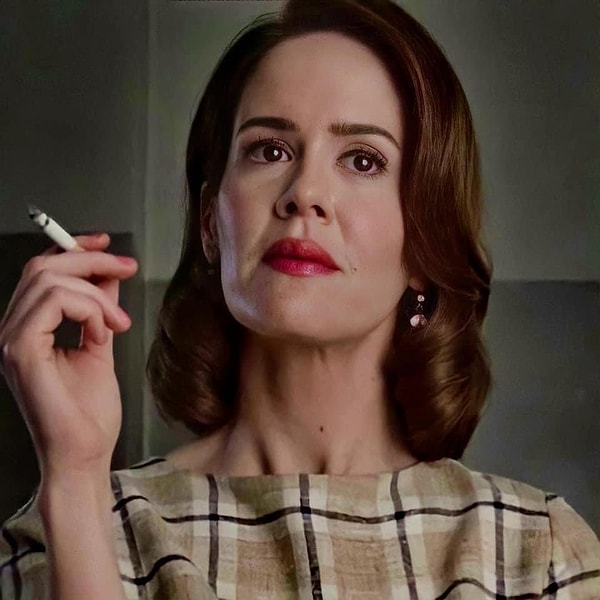 Lana Winters
Season 2 'Asylum'
It was impossible not to sympathize with Lana Winters, the lesbian reporter who found herself trapped in an insane asylum. Her forced admission was a sucker punch. Her life sentence was far too bleak to ponder. We were robbed of hope, thrown a bone, then robbed again, certain she'd never leave. When she finally did, it was like a lifetime achievement--shot to pieces by the revelation that the man who helped her was a serial killer posing as a psychiatrist. The entire plot was one relentless rollercoaster. In fact, it went on for years. She did find peace, but it didn't happen until much later in life, at the cost of losing a child.
Elsa Mars
Season 4 'Freak Show'
Jessica Lange has a talent for making evil alluring. Her characters are vulnerable, pouty, and often desperate. They're hard on the outside, but on the inside they're tender and hurting. That was Elsa Mars, the murderous dominatrix turned ringleader. She led a troop of what she called 'monsters' across the country, hoping to one day find herself among the great silver screen starlets.
She did put on a show. Lange stretched herself to the limits for the character, who guided us through the realm of gore, snuff, and BDSM, giving us some of the series' darkest depictions. She even took to the stage, surprising the audience not just with her vocal ability, but her ability to bring down the house using an affected German accent. It was an achievement, to be sure. Fans will never forget her smoky rendition of David Bowie's 'Life On Mars.'
All of this was accompanied by one of the strangest, most compelling casts ever assembled. They spared no expense in recreating an old fashioned freak show, and she was at the center of it all. It was her final season, and in many ways, it was her best.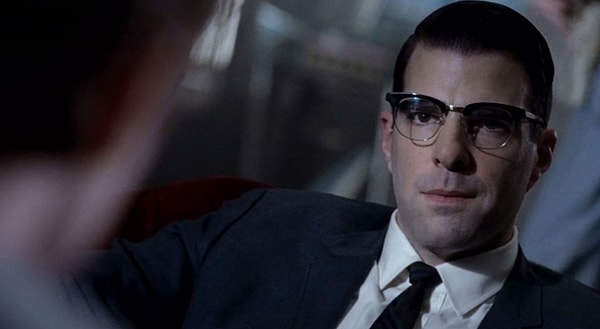 Dr. Oliver Thredson
Season 2 'Asylum'
In the unbearable roller coaster that was the life of Lana Winters, there was one ray of hope: Dr. Oliver Thredson, a psychiatrist who was appointed by the court to examine a supposed serial killer who had been admitted there. Unlike Sister Jude, whose sadistic punishments and backwards Catholic values tainted the Briarcliff experience, Thredson seemed to believe in a more compassionate, clinical approach. 
He was a ray of hope in a pitch black tunnel. Lana Winters had been struggling with the horror of lifelong confinement and torture when he arrived. He took her under his tutelage and promised to help treat her homosexuality. But all of his methods seemed to match the ineffective treatments at the time, inducing a predictable burst of shame and discomfort. It was almost like he was doing it on purpose to torture her. Finally, he agreed to help Lana escape, giving her the only viable possibility of a life worth living, but when he did he revealed himself to be the infamous killer, Bloody Face. 
Thredson grew up in an orphanage. He lost his mother early on, so he spent his adult years hunting down women with what he believed to have 'maternal skin.' He'd abduct them and play out childhood fantasies, then kill them and use their bodies to make furniture. He thought Lana could be the one. He even went so far as to impregnate her before she escaped. His ability to fool the audience and convince the other characters makes him one of the most compelling villain in the series.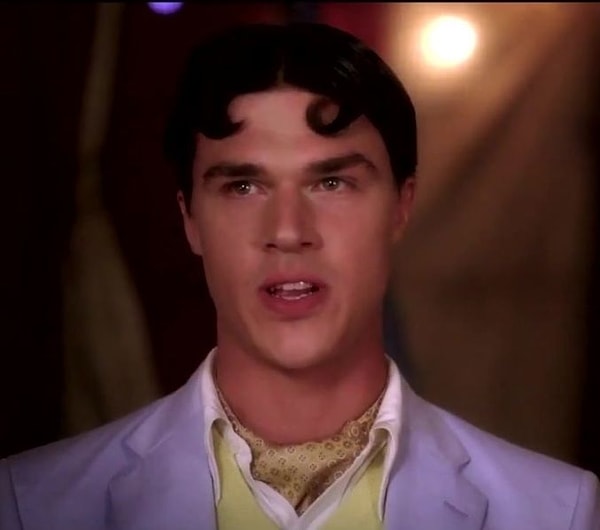 Dandy Mott
Season 4 'Freak Show'
Even in a series like 'American Horror Story,' which specialized in the demented and absurd, Dandy Mott stood out. He had stereotypically handsome features and a well-honed physique, unlike many of Elsa's 'monsters.' But he was the freakiest character of all. 
Mott was raised by his overly permissive mother Gloria, a rich heiress who gave into his every whim in an attempt to quell his overly sensitive temperament. He run ramshod over the house like a toddler, throwing tamtrums, despite being full grown. He'd cry, stamp his feet, complain about dinner and go on ridiculous rants. His mother treated him like he was a boy, even going so far as to letting him use a bottle. 
Dandy spent his time in his recreation room, playing pretend with his massive collection of children's toys. He also liked to play dress up. It was comical and a little disturbing seeing just how deep his pathology went. Eventually, Dandy's mother hired a clown to come and entertain him. They went on a vicious killing spree together, and he nearly murdered the entire freak show.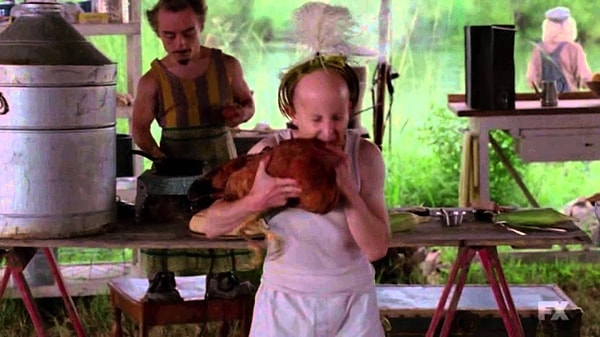 Meep
Season 4 'Freak Show'
'Freak Show' was a genius concept, built by what must've been a set of lunatics. The show had long used characterization as a way to keep viewers invested, basing its cast on memorable traits, like witch powers, mental illnesses, and the unfinished business of ghosts. 'Freak Show' took this tactic and turned it on its head. They scoured the world, hunting down individuals with disabilities, hoping to build a world-class season that viewers simply could not look away from. 
They got away with it by devising a plot based on equality and tolerance, garnishing sympathy and admiration, all while killing them off one by one. This was paired with an unforgetting aesthetic, using costumes so strange that they still catch the eye. There were some memorable appearances, and the cast more than earned their moment in the limelight, bringing us tragedy, laughs, and appalling absurdity. Those memories will not fade away, but Meep will always be foremost on the minds of fans. 
Meep was a dwarf who walked around in strange, furry costumes, squeeking, 'Meep!' His only talent was biting the heads off chickens, but given his signature look, that was enough--especially considering the way his life ended. Meep was framed by the freak show's strong man and forced into prison, where the inmates believed him to be responsible for a string of murders. They tore him apart. It was horrible to watch. What's worse is the actor who played him, Benjamin Woolf, died a year later. He was jaywalking and sideview mirror of a vehicle struck him in the head. The driver wasn't charged. It was ironic and scathing, and it's hard not to draw parallels to Meep's untimely death in the show.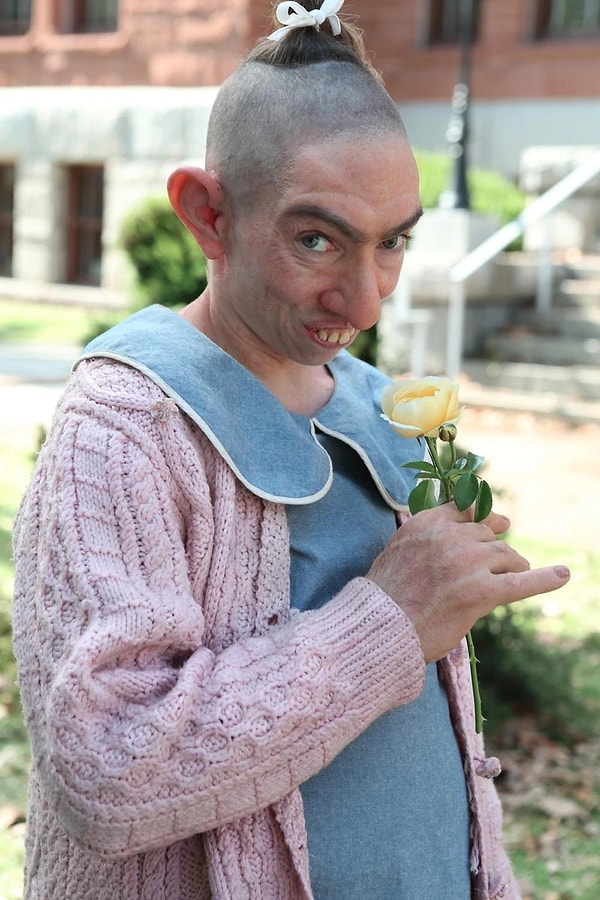 Pepper
Season 2 'Asylum' 
Season 4 'Freak Show'
Pepper is one of the few characters whose storyline crosses between seasons, and out of them all, her arc is probably the most extensive. She was one of the first characters given an eccentric appearance. Hers was due to a case of microcephaly--essentially a small head--which can stunt mental and physical development. When she was first introduced, she was a mental patient with a bald head, a tiny ponytail, and a protruding smile. She'd come up to people and beg them to play with her. 
She was beloved by Elsa Mars, who ran the freak show in season four. Elsa said that she never felt true love until she met Pepper, and it's easy to see why she felt that way. Pepper is endearing, innocent, and kind. She's guilty of nothing more than having an eccentric appearance. She was raised in an orphanage and abandoned by her parents due to her disability. Elsa found her there, took her in, and taught her to perform. She wanted to give Pepper a full life, a child, and a husband. She did all of those things, gifting her with Ma Petite, and Salty, another microcephalic. When Salty died, Elsa couldn't take care of her any longer. Pepper had become upset and despondent, so Elsa hunted down Pepper's sister Grace, who had zero tolerance for anyone with a disabilities. That included Grace's infant son. Her and her husband decided to kill the baby and cut off his ears, then frame Pepper to get rid of them both. 
That is how Pepper came to be confined in the asylum. Gone were her days of simple enjoyment, running through sun and ribbon dancing with her lover. The tragedy, paired with her inner beauty, was enough to rip hearts out. She was forced into a dirty frock, confined to a cell, and treated like a criminal. It was one of the greatest injustices in the entire series, and they worked hard to shock us with that kind of harsh behavior. But Pepper got the last laugh. She was transformed when she was abducted by aliens. They gave her intelligence and seemingly supernatural powers, allowing her to live out her days as a savant.
Scroll Down for Comments and Reactions