News
10 Eddie Murphy Forgotten Gems to Check Out Before 'Beverly Hills Cop 4: Axel Foley' Premieres
10 Eddie Murphy Forgotten Gems to Check Out Before 'Beverly Hills Cop 4: Axel Foley' Premieres
Eddie Murphy has been making some noise on the big screen lately, and though crowned as a film veteran, his suave is every bit as intact as his heydays. 
The actor's newest Netflix rom-com, You People, premiered on January 20, featuring an impressive star-studded cast including Jonah Hill (The Wolf of Wall Street), Lauren London (The Perfect Match), Nia Long (The Best Man), David Duchovny (Return to Me) and Julia Louis-Dreyfus (Enough Said).
'Beverly Hills Cop 4: Axel Foley' is in the Works
Meanwhile, the eagerly awaited Beverly Hills Cop sequel that showcases Eddie Murphy as the loud-mouthed gun-trotting Detroit police officer Axel Foley is now in the post-production phase, setting a quite high bar from its first three predecessors that performed relatively well. 
But as we wait for the anticipated return of Eddie Murphy in Beverly Hills Cop 4: Axel Foley, we have put together some Eddie Murphy films that didn't generate fan rave but are every bit worth watching.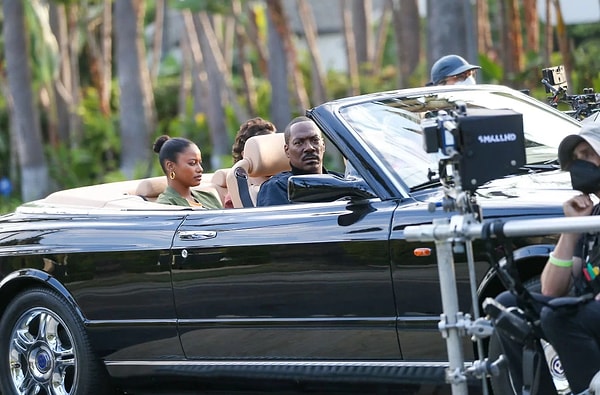 10. 'Life' (1999)
Life is perhaps the most undervalued Eddie Murphy's big screen feature. Since it stars the icon alongside co-legend Martin Lawrence, you'd expect the movie to be a comedy, but it adds drama to the mix. 
Murphy and Lawrence play Ray Gibson and Claude Banks, who are falsely sentenced to life imprisonment because of being at the wrong place at the wrong time. The duo strives to get out of the confinement, but not without a bunch of hi-jinx with them and their fellow convicts. 
Also expect to see the younger faces of Bokeem Woodbine, Miguel A. Núñez Jr., Obba Babatundé, Rick James, Guy Torry, Bernie Mac, Anthony Anderson, Sanaa Lathan, Barry Shabaka Henley and R. Lee Ermey.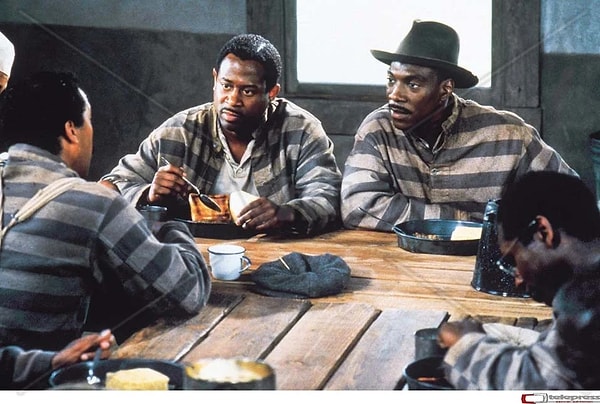 9. 'Harlem Nights' (1989)
Murphy wrote and directed this comedy crime film, a role that he described as gruelling and unbefitting for him. 
Starring Murphy as Quick and comedic icon Richard Pryor as his foster father, Sugar Ray, Harlem Nights follows the two characters as they run an underground speakeasy brothel in the 1930s. Their business rival Bugsy Calhone (Michael Lerner), envies their success and works with corrupt police officer Phil Cantone (Danny Aiello) to take the brothel down.
Warning: Harlem Nights is packed with sex scenes, violence and drug deals aplenty. So you might wanna keep your youngsters at bay. However, the protagonist's comedic geniuses at the helm alleviate the movie's humor value.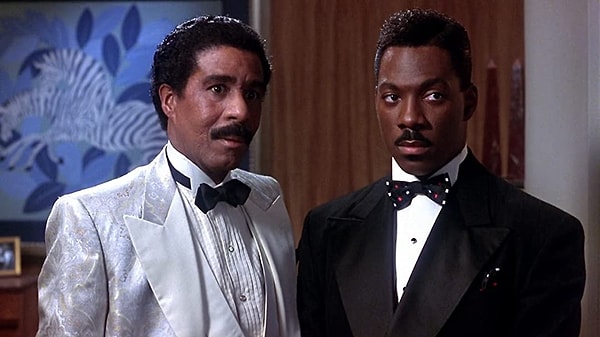 8. 'I Spy' (2002)
Expectations were high for an action film that stars the funny and lovable Eddie Murphy and Owen Wilson in the early aughts. However, 2002 saw the debut of film flops starring Murphy, almost killing his career. Besides I Spy, we have Showtime and The Adventures of Pluto Nash. 
I Spy is a reboot of the classic 1960s TV show centering on a black-white spy combo starring Bill Cosby and Robert Culp, but in the big screen adaptation, the egotistical heavyweight legend Kelly Robinson (Murphy) is paired up with Alex Scott (Owen Wilson). 
The two must track down a military fighter jet, which can become invisible, before conniving business dealer Gundars (Malcolm McDowell) can auction it to the highest bidder. 
The film also hosts Famke Janssen, Gary Cole, Bill Mondy, Phil Lewis, Tate Taylor, Darren Shahlavi, Simone Bailly, Mike Dopud, Lynda Boyd and Viv Leacock.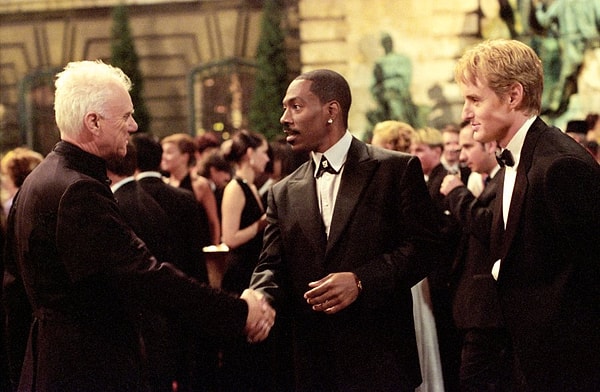 7. 'Meet Dave' (2008)
A sweet comedy film for the whole family to watch! Meet Dave, though highly underrated by critics, features an ensemble cast. Besides Eddie Murphy, we have Gabrielle Union, Elizabeth Banks, Ed Helms, Kevin Hart, Marc Blucas, Jim Turner, Miguel A. Núñez, and Pat Kilbane. Even Glee's Mike O'Malley appears in the film. 
Murphy portrays an alien human-like ship called Dave, and inside the ship, are tiny aliens (without extra limbs or bug eyes). The ship lands in New York from outer space as the miniature human-like creatures strive to find an orb to save their planet. 
The orb lands in the hands of a small emotionally fragile boy Josh. Dave's mysterious appearance on earth sparks an investigation by law enforcement. Meanwhile, most ship crew members get smitten by earth's humanity as Dave forms an unlikely connection with Josh and his mom Gina.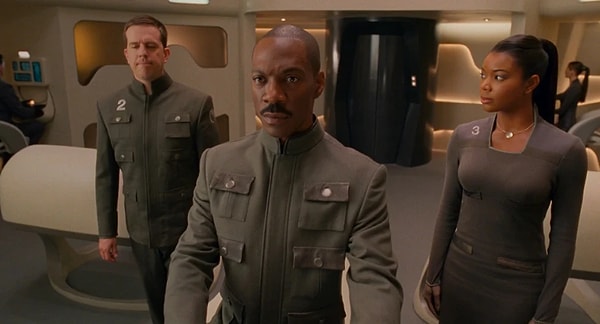 6. 'Vampire in Brooklyn' (1995)
This Wes Craven-directed film was considered an epic failure which comes as a surprise because of Craven's overly successful A Nightmare on Elm Street and Scream franchises. 
The horror comedy navigates the story of Maximilian (Eddie Murphy), the last vampire on earth who struggles to find a mate to continue his genealogy. He meets detective Rita Veder played by Angela Bassett and attempts to court her. 
However, his hypnosis of the lady takes a grisly turn when his courtship doesn't go as smoothly as expected.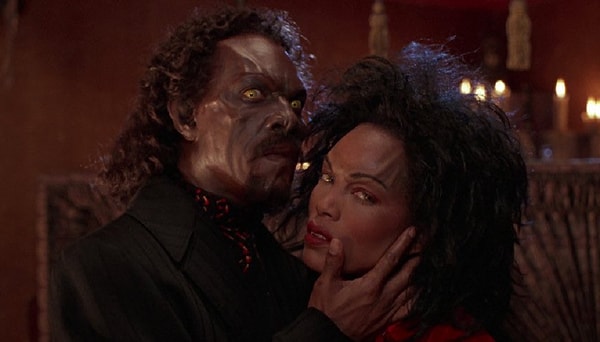 5. 'The Distinguished Gentleman' (1992)
A piece of cotton candy, The Distinguished Gentleman features Murphy as a con artist Jefferson Johnson, who finds himself on the lucky side of the coin when he lands in Congress due to sharing a name with a deceased Congressman Jefferson Davis Johnson, who campaigned with his informal moniker 'Jeff Johnson'. 
Playing the part comes easy for Jefferson Johnson and has everyone fooled except for beautiful pro bono lobbyist Celia Kirby (Victoria Rowell) and her liberal uncle, Reverend Elijah Hawkins (Charles S. Dutton). 
The movie's supporting cast is impressive, with the highest score going to Lane Smith, who played the self-abasing powermonger, Dick Dodge.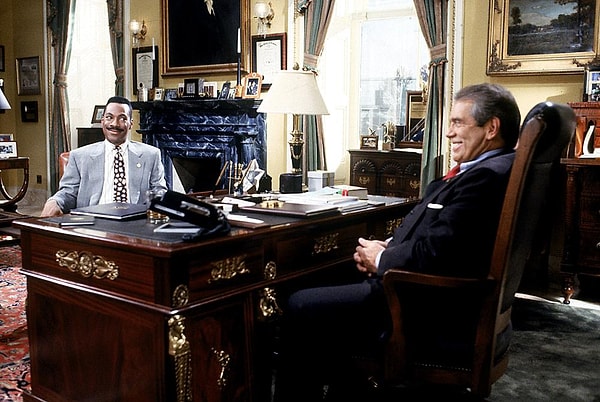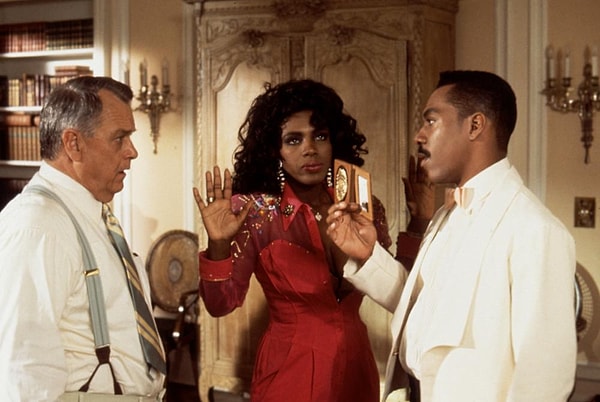 4. 'The Haunted Mansion' (2003)
Don't let the name fool you! The Haunted Mansion tours the lines of spooky rather than full-on horror. So, you can watch it with your nine-year-old. 
Workaholic real estate agent Jim Evers (Eddie Murphy) takes a vacay trip with his family to make up for the many family occasions he missed. On their car trip, he decides to take a detour to vet a mansion put on the market by client sellers. 
With their journey derailed by a storm, Jim and his family are forced to spend the night at the ominous vintage mansion. But as the night unfolds, Jim realizes that the mansion is spooked with ghosts and that the business dealing was cooked up to get him and his family to the house for a ritual. 
Also featured in the movie are Terence Stamp, Wallace Shawn, Marsha Thomason, Jennifer Tilly, Marc John Jefferies, Ariel Alexandria, Nathaniel Parker, Dina Spybey and Rachel Harris.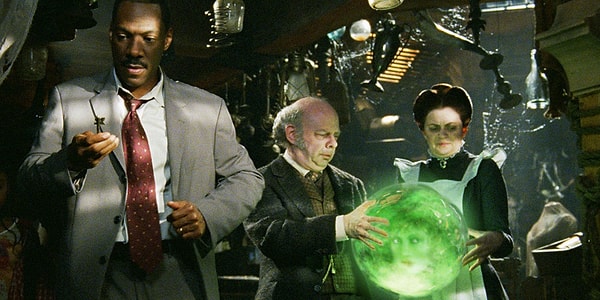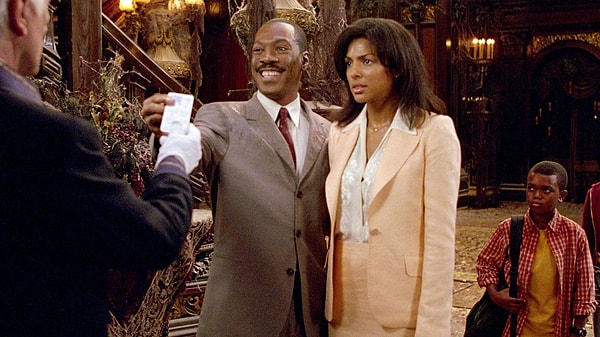 3. 'Best Defense' (1984)
Best Defense is an odd comedy where the hilarious primary actors, Murphy and the late Dudley Moore, don't share screen time, but whose fate of their characters, engineer Wylie Cooper and Lieutenant T.M. Landry, entangle. 
Wylie designs the support system of the tank that Landry pilots. What might have started as a revenge mission against his employer ends with Wylie being the savour of his company when a certain disk design lands on his hands after the engineer who coined the artifact dies.     
Murphy's character is good-natured, straightforward and sometimes humorous, as expected.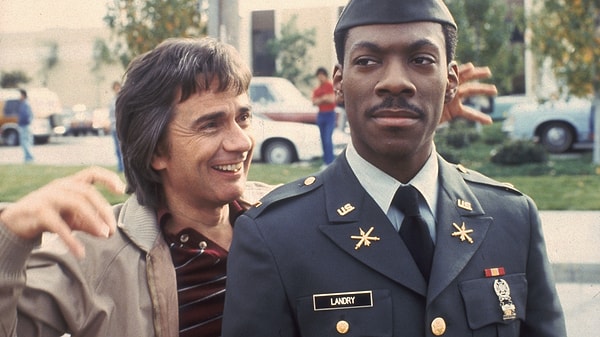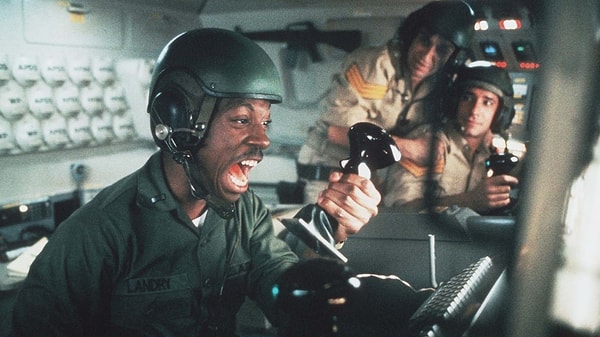 2. 'Showtime' (2002)
A satirical comedy action, Showtime showcases a clever pairing of Murphy with Robert De Niro as a frustrated actor turned LAPD patrolman Trey Sellars and no-nonsense LAPD detective Mitch Preston respectively. 
The two are forced to star in a reality TV show overseen by driven producer Chase Renzi (Rene Russo) and her excessively intrusive crew.
The film is highly recommendable if you are looking to laugh your guts out and have a memorable time with your loved ones.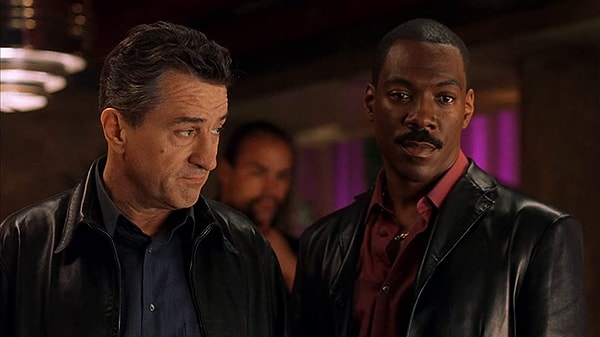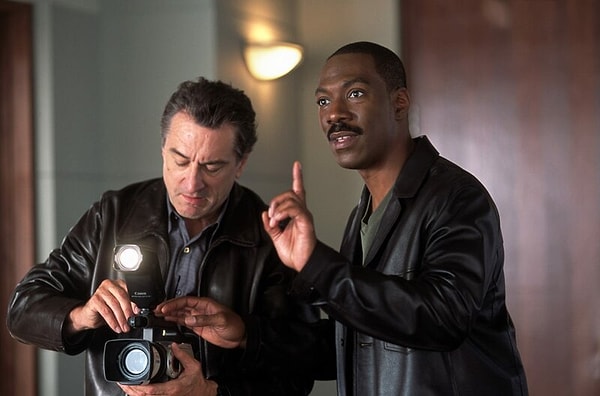 1. 'Holy Man' (1998)
Before giving this classic film a massive nod due to its obstructive reviews, I think Holy Man has a clever agenda about the future of humanity, which we currently are in. 
Watching this 90s satirical comedy-drama film again in your adulthood makes you realize the growing consumerism, and how we uphold shallow things and devalue the important ones. Besides whisking you out of reality, Holy Man makes you feel life more profound and also serves some laughs. 
Murphy stars as the enigmatic detached TV figure G aka, Holy Man, alongside household names Jeff Goldblum, Kelly Preston, Betty White, Jon Cryer, Robert Loggia and Eric McCormack.
Scroll Down for Comments and Reactions