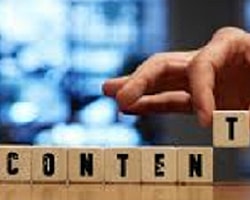 We learn nice writing in elementary school. When studying or at work, most people learn
how to write badly. Long-winded. Full of technical terms. Stiff. Formal. End
station - text dessert.  The effect: most of the texts you read in the business are just bad. Boring. Not Saying. Anyone who has such texts on his website need not be surprised if no visitors get stuck and ultimately become customers.
Try your own texts - based on these 10 points:
1. Much text is not good text
At some point you have internalized that you have to write a lot in order to get good grades. An essay on a half page? Bad. A diploma thesis with 25 pages? Even worse. Forget it. It is not about producing lots. It is about communicating content quickly and to the point. Good texts therefore scarcely formulated. So that you can leave no word and the thought still clearly conveyed. Make it a habit to radically shorten any text before publishing. He usually gets better.
2. Foreign
words and technical terms are not necessary to act as an expert
Do not use the language that you think you need to use in your industry. Most of the time
it's just a lot of hot air. Real experts do not need to delineate themselves over language and have to rise above others. They are able to say something in perfectly normal words, so that they understand the target audience. That is what makes them real experts.
3. A formal tone never goes down well
Most talk very differently than they write. And are much more convincing. So in the
future, write as you would with someone sitting across from you. Then read the
text itself or another person. Then you immediately notice whether he is linguistically convinced or rather stiff scribbling.
4. Think first and then write
Before you write: Think about what your text should achieve. And then you work towards that goal. Construct the conclusively coherent arguments in the form of an outline. Weaknesses will recognize you immediately and can iron you out. The actual writing is a bummer later, you really only need a few transitions. Make it a habit to think 80% of the time while writing and 20% to write. Your lyrics will be much better.
5. Do not write if you have no idea
The best lyrics come from those who are deep in a subject. That is why you should prefer to write appropriate employees or other specialists, if you yourself are not so fit for a topic. Your task comes after: Check that the text is really written for the target audience and make corrections if necessary.
6. Do not write for anyone, just for the target audience
You yourself have a different view of his subjects. It is usually less interesting for your target persons. Therefore, do not go out on your own when writing, but always think of a specific person from your target group. Your texts will be much easier to understand and convincing.
7. Simplification is the first step to success
Anyone, who expresses things in a complicated way has not done his job as a copywriter and
turns it over to his readers. Not smart. If you want to convince with texts, keep things simple. Even the complicated does not have to read complicated. Not only the "broadcast with the mouse" proves that.
8. Text needs space to be effective
A page crammed with letters seems off-putting at first glance. Do not want to read. Therefore,
make many short paragraphs. Use subheadings. And basically keep it short.
9. Do not try to act differently than you are
Small, young companies try to get older and bigger in their texts to be more
professional. Let that be better. First, you can see through it quickly anyway.
Secondly, it gives you the opportunity to be more fresh and innovative in your
publications than your competitors. Write as you are. And not the way you think
a successful business need to be.
10. Do not accept time pressure
A good text takes time. Even if you can write it in 30 minutes - let it lie for now. Sleep over it. And look at it again the next day. You will most certainly find something that you can write better directly. No time is the fastest way to bad lyrics. Of course, it happens that writing the texts by yourself is not the best option. In this case, you can contact quizlet or any other services that can create the necessary content for you. Remember that good content is the key to the success of any site.